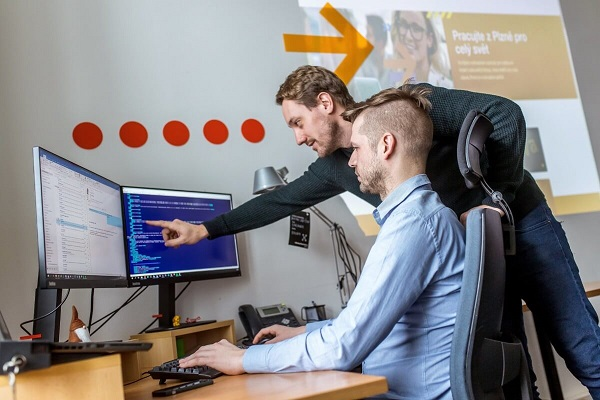 Aimtec's Support division provides nonstop support for our customers. Requests are processed by a team of people who must understand both the customer's products and the importance of a cool head. After all, support situations can be real crises, especially if production is threatened. Here's a chat with Aimtec's Support Team Leader Filip Heidenreich about the range of responsibilities for a Support specialist.
Filip, you've worked your way from the Support team to Team Leader. How do you see the progress by yourself and Support in that time?
In the last two years, Support has grown more stable. We've locked ranks, and improved as well. Besides just organization, we're also constantly expanding our scope. Alongside helping customers, we're responsible for many internal activities.
So, then – what does an Aimtec customer-support team member do?
We help in several areas. Cross-product and cross-division activities are the first of these. That means customer communication, ServiceDesk administration and filing, categorizing and coordinating requests. Activities specific to selected divisions are the second area. The mentioned internal, primarily "overhead" projects are the third.
Those activities specific to selected divisions – can you give an example?
These are of a significant scope mainly for the Integrations and DCI divisions. For Integration, this mainly means preventive maintenance for customers, where every week we check that their servers and systems are OK, and we can prevent complications by uncovering defects. Then there are things like supervising ClouEDI outside of working hours, and basic "Level 1" interventions: checking connections, resending unsent messages etc.
We do Level 1 interventions for DCI as well: checking the app, restarting and overall checks to see a problem's source before a request is escalated. And newly, automated monitoring (AMO) as well.
But you also have projects that don't concern Aimtec products, right?
Right. For selected customers, we also provide End User Support. This might sound clichéd, but we're literally awake when our customers are sleeping. Our project for Eissmann, a German company, is one great illustration. Since we handle support for all their plants worldwide, we're available to their other plants when their German colleagues are resting. Their IT team is only available during standard working hours.
What's exceptional about being part of Aimtec Support?
Customer support means much more than answering calls and recording requests. Everyone on the team must have deep enough knowledge of our individual products and be able to navigate among them and respond flexibly. For example, a customer may call us because they can't scan an item into DCIx. But it turns out that the problem isn't in DCIx: it's in the ERP it's connected to. And we should be able to reveal that.
Foreign languages are another key skill. We provide support in German, English and of course Czech, and there should be no palpable difference when customers call us or "their" company. We also e.g. file feature requests and help developers to test new features. Every Support specialist is simultaneously a consultant whose competency includes the given product. We each must have basic knowledge, know the terminology, know of possible interconnections with other systems, and respond to requests accordingly. Sometimes situations are also tense, because at the other end there's someone who's stresses at having possibly broken something or endangered their own or others' work. In these cases, we must be empathetic and handle and moderate the situation coolheadedly. When you consider that we work in shifts and provide a wide range of services, this definitely isn't easy work.
Share article
Top stories from logistics, production and IT.
Subscribe to Aimtec Insights
By registering, you agree to the processing of your personal data by Aimtec as described in the Privacy policy.
Get top stories and articles
from Logistics, Production and IT.
Subscribe to Aimtec Insights
By registering, you agree to the processing of your personal data by Aimtec as described in the Privacy policy.
Related stories