Digitalisation platforms – an inexhaustible tool for manufacturing optimisation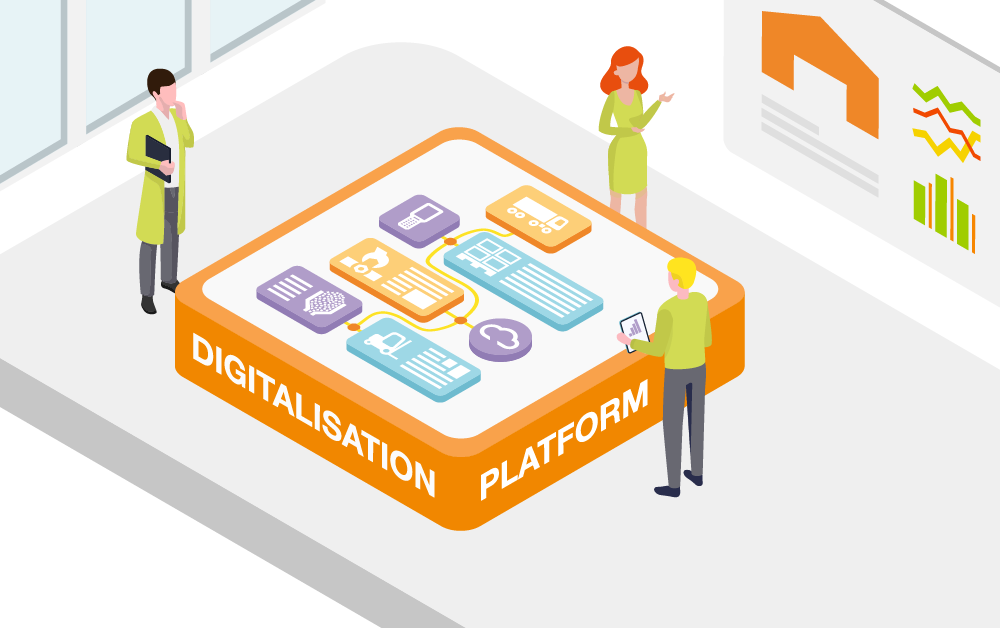 Have you ever had the feeling that your manufacturing can't be optimised any further, and you've reached its limits? Is it at all realistic to have completely interconnected manufacturing, in which people, machines, tools, materials and products all communicate simultaneously? The solution is a digitalisation platform that is able to connect to anything you can think of. With its help, you can configure any behaviour you desire for individual outputs and set up a variety of possible reactions. This way you can have complete information from manufacturing in real time – and digitally control it as well.
A digitalisation platform brings fully interconnected production
Imagine a manufacturing plant where every unit with any degree of involvement in manufacturing is controlled, managed, monitored, evaluated and optimised. People, machines, tools, robots, AGVs, VNAs, AMRs and other automated equipment are connected with a system that controls and also monitors them. Even parts, materials, moulds and jigs can be monitored in detail using various sensors once they have been marked with suitable identification. If any unwanted deviations arise, the system raises an alarm and sends out a call for corrective measures. "Deviation" means any performance reduction that cannot be remedied without increased costs. The human factor has a minimal influence here; humans have no room to make mistakes and influence the production process. Digitalisation platforms are what enable this sort of completely interconnected manufacturing.
Everything in the production hall happens automatically
Based on the production plan, control instructions are uploaded to machines, or, for tools where it is needed, a control program is uploaded. Tolerances are set for all parameters. If the currently recorded real values do not fit within them, corrective measures are initiated automatically. A quality assurance specialist is called in, or a setter, or the product is automatically excluded from follow-on operations until the problem is corrected. Downtimes and reductions to performance and to machine-processing times are monitored and recorded by the system on its own without human intervention. Every critical part is checked before the start of operations to ensure it matches the manufacturing procedure. An optical, RFID or other sensor identifies its presence and records it into the part's product life history.
Before the production process begins, operators are also verified to see if they are sufficiently qualified and have been trained for the latest changes in manufacturing procedures. If any unexpected events occur, the operator is shown a warning on their terminal, for example with a call for increased specific checking of each part. Materials and parts are delivered to work centres in a precise order based on the manufacturing takt with the use of automated vehicles or small robots. Finished products are transported out similarly. This reduces mix-ups and speeds up handling.
Less human error, more creative work for humans
The other logistics operations in warehouses before or after production are automated as well, using AMRs, VNAs, ASRS, robotic depalletisers or pallet-assembling robots. In those cases where humans do play a part in handling, they are navigated using e.g. light signals. The goal is to prevent mistakes and avoid slowing down the people doing this work. Those people then can spend their time solely on work that is specialised, flexible and creative.
"Combining vertical and horizontal integration enables maximum optimisation. A digitalisation platform provides swift deployment along with the option of connecting further machines and other specific adjustments without help from the IT supplier. It gives the customer a chance to improve process quality on their own and increase the performance of fully interconnected manufacturing."
Rostislav Schwob, Supply Chain Solutions Director DCIx, Aimtec
Increasing performance, independence and flexibility during future development
Digitalisation of manufacturing enables increased manufacturing performance. Non-standard states are documented in detail for subsequent analysis and new systemic corrective measures. These are implemented right away, and even small drops in performance see immediate responses. No time is wasted waiting for materials, and individual production parts arrive in place on time. Eliminating the human factor means there are no unnecessary errors. One undeniable benefit for the future is that the customer can handle many individual matters such as connecting further machines on their own, quickly and without supplier assistance.
Share article
Top stories from logistics, production and IT.
Subscribe to Aimtec Insights
By registering, you agree to the processing of your personal data by Aimtec as described in the Privacy policy.
Get top stories and articles
from Logistics, Production and IT.
Subscribe to Aimtec Insights
By registering, you agree to the processing of your personal data by Aimtec as described in the Privacy policy.
Related stories