Monitor Warehouse Staff Routes and Localise Objects in Real Time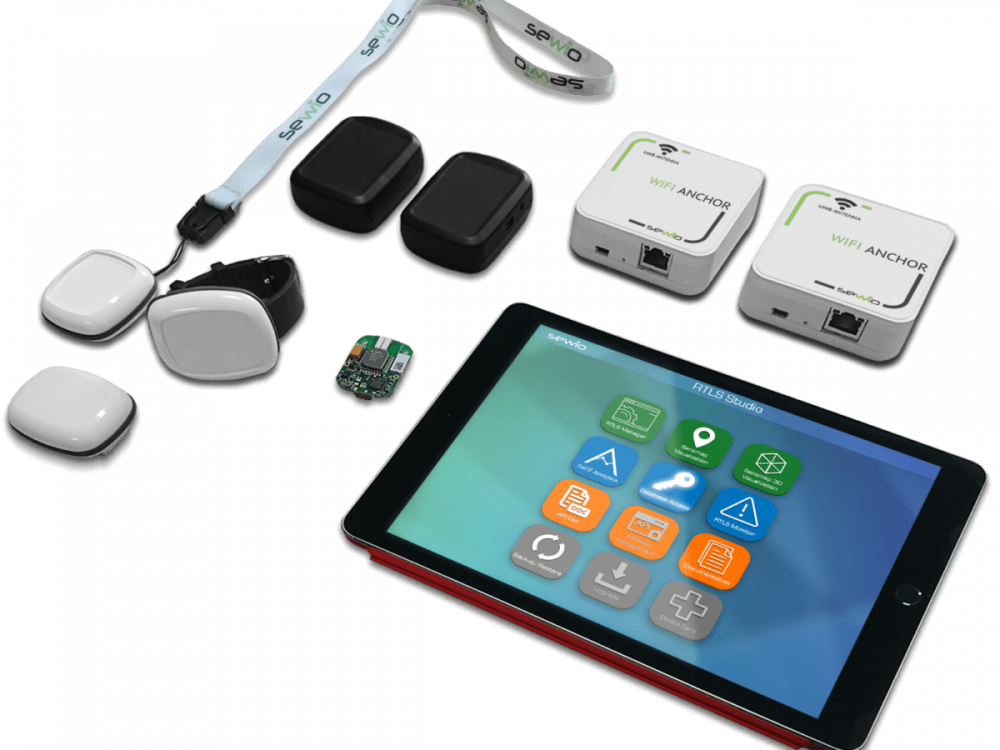 Where on Earth is Petr with that forklift? Where have you put that blasted pallet with the parts for the Daimler order? If you're knee-deep in questions like these, then it's time to discover Location Based Services.
For a vivid example of how a localization service works and how to use it, let's look across the ocean to supermarkets in the USA. Each store has its own mobile app made for its customers. These customers fill out registration data, and when they enter the market, the app connects automatically over WiFi. Based on an analysis of a specific customer's behavior, previous purchases, or how much time they spend with which goods, the app targets promotions and recommends goods right inside the telephone in real time based on their shopping route.
The Harnessing of Bluetooth Low Energy technology
Aimtec offers two technologies in the area of Location Based Services (LBS) that we'd like to introduce. The first technology, utilising precise determination of an object's location, is rooted in the use of Bluetooth Low Energy (BLE). This technology is useful primarily due to its very low energy use. But how does it work? A battery-powered Bluetooth chip is fastened to an object or is carried by users themselves. A second chip, meanwhile, is fastened to a fixed spatial location. As soon as the two chips come into sufficiently close contact, information on the objects' approach is sent to the reader via Bluetooth. This may be a phone, a tablet etc. The device sends the information over the internet to the cloud, from where it can be processed further. This is solely information on whether or not the object is within range.
But how can BLE be utilised elsewhere as well? There are many areas of logistics or manufacturing where an object's current position needs to be determined. The first possibility is use for the supply train running through a hall. As the plant operator, you're interested in the train's location. You install chips at several stations and attach a reader or a second chip to the logistics train. As it approaches a stationary point, information on its location is sent off to the cloud. This enables monitoring of both where the vehicle is located and at what station it signed in last and when it did so, or how often it goes through individual stations in a certain time. This information can then be utilised e.g. for planning production or shipping times. Another area is the localising of large pieces of goods or pallets in the warehouse. Determining whether or not a manipulation unit is located at a storage point is made clear, fast and inexpensive. Meanwhile the chip on the object can also include sensors that measure a required temperature or vibrations. If a defined limit is exceeded, information can be transmitted to the cloud. Usually this monitoring method is used for large and expensive storage stocks such as wire coils or sheet-metal scrolls. This precise localisation enables an on-line overview of consumption and better use of warehouse stocks. As another example we can cite use for the localisation of production or warehouse operators, from whom information can be obtained on when they are leaving the manufacturing spaces and for how long.
Object localisation using the Real Time Location System
The second technology here is the Real Time Location System (RTLS), which typically utilises the UWB radio band. It is based on signal receivers called "anchors" installed into a site's spaces. These are similar to WiFi receivers. People, manipulation equipment or other monitored objects have a radio chip attached to them. Based on the signals received from the chip, the anchors can localise the monitored item fairly precisely. The chips also have sensors built into them and can also monitor the object's rotation. There are several uses for this technology. After collecting data on the routes taken by warehouse operators, this data can be analysed to determine the optimal route for maximising time savings and minimising the overall route length. Furthermore, warehouse workers can directly be navigated to a desired position. Or a space where employees are not allowed entry can be defined and any violations of that space can be announced. Similarly, tools can be monitored to ensure they are assigned to the right work site. This kind of functionality will find use e.g. in the case where there are two screwdrivers that look exactly alike and yet each one has a different tightening torque.
The use of object localisation technologies has a great potential for the future and will be seen more and more frequently in warehouses, manufacturing and daily life as well. We are not at all able today to name all the areas that this technology might cover tomorrow. However, we have a vision and a capable team that will be seeking roads for implementation. We have assembled it from experts at Aimtec and at our partners. For the BLE delivery this is the technology company Openmatics, and for the RTLS delivery it is the successful start-up Sewio.
Share article
Top stories from logistics, production and IT.
Subscribe to Aimtec Insights
By registering, you agree to the processing of your personal data by Aimtec as described in the Privacy policy.
Get top stories and articles
from Logistics, Production and IT.
Subscribe to Aimtec Insights
By registering, you agree to the processing of your personal data by Aimtec as described in the Privacy policy.
Related stories