Local automotive manufacturing? Smart microfactories will make it possible.
Traditional production lines may soon be replaced by innovative microfactories consisting of manufacturing cells with flexible robotic stations. These can make do with a floor area that's two orders of magnitude smaller and can be brought into operation considerably faster.
The largest initial public offering (IPO) in history likewise bears a relation to microfactories. On 25 March 2021, an inconspicuous startup named Arrival became a record-breaker on this front. They are a manufacturer of electric vans and buses that plans to introduce revolutionary localised "micromanufacturing". Investors valued their firm at nearly 14 billion US dollars. Arrival is thus riding the wave of major interest in electric vehicles at a time when even the Taiwanese giant Foxconn, the manufacturer of the iPhone, has announced an interest in producing battery-powered cars.
We should all forget about vast automaker manufacturing halls spanning multiple square kilometres. Microfactories will make do with just 10,000 square metres.
Are traditional manufacturing halls on the way out?
Arrival first truly made itself known in early 2020, when it closed a partnership valued at 110 million dollars with the Korean automaker Hyundai/KIA and obtained an order from the delivery company UPS for 10,000 electric vans, with an option for the same quantity in 2024. Manufacturing of these vans will begin in late 2021. A report on a partnership with Uber has caught people's attention as well. Arrival will be cooperating with them to develop a vehicle adapted to their specific service.
Arrival differs from traditional OEMs because they use an innovative production method: they are developing a concept named "microfactories". In the course of promoting this path, Arrival has stated that we should all forget about vast automaker manufacturing halls spanning multiple square kilometres. Microfactories, they say, will make do with just 10,000 square metres. Every vehicle is to be produced at low-cost factories using flexible robotic assembly stations and manufacturing cells ("cell-based assembly") in place of traditional manufacturing lines. Fifty to one hundred employees are to work at each microfactory. The firm asserts that at least 1,000 robots per assembly line are needed today for body assembly alone, whereas Arrival will only need 70 of them. The planned key to success is a modular design for each vehicle, with a body made from a patented thermoplastic composite. This will enable assembly of vehicles in plants that are significantly smaller than traditional factories. It also eliminates the need for paint shops and welding shops, because the composite panels used do not require painting and welding.
Automation is natural for microfactories
These factories are gradually to become fully automated, including their warehousing spaces, and to fully reap the benefits of Industry 4.0. They will each cost a few dozen million dollars to build. This type of plant can be deployed quickly, in just six months, even in existing commercial spaces that were originally utilised e.g. as a warehouse. That makes it possible to begin meeting local vehicle demand quickly. For comparison, the construction of a large automotive factory normally takes 2–3 years and costs over one billion dollars.
Microfactory construction is planned for many places in the USA and elsewhere, which bring more regional employment and less of an environmental footprint. Arrival's vehicles are to be manufactured where people live; the company contends that this will support local communities. Arrival is promising 1,000 microfactories by 2026.
Alongside the automation of manufacturing, the vision of a local supplier chain is important for Arrival as well. Tracey Yi, the CEO of Arrival Elements, states that the company will primarily be striving to use as many local suppliers and partners as possible, and will only opt for geographically more distant sub-suppliers when absolutely necessary.
Sustainability? Efficiency? Sometimes there's no dilemma.
"We develop and manufacture our components, materials and technologies in-house. These same technologies, components and materials are used in the flexible skateboard platforms in all of our vehicles. This is the key to efficient manufacturing at Arrival microfactories. Meanwhile local production eliminates the need for complex and expensive transportation. That enables us to reduce costs by 30%, thereby maximising the margins on every vehicle we produce," says Arrival regarding its technological vision.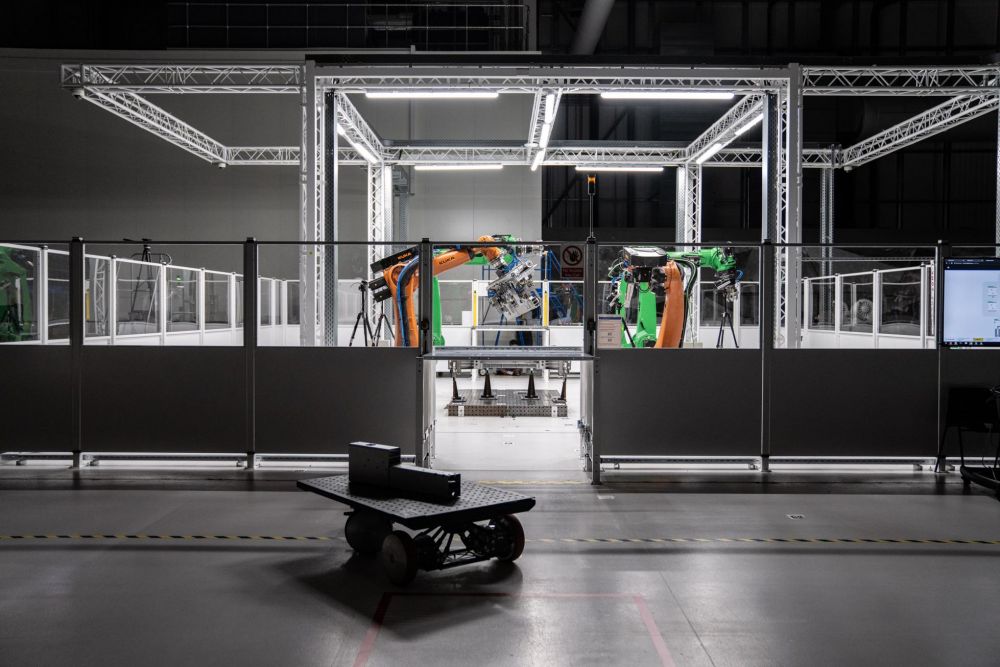 A manufacturing cell at an Arrival microfactory
Zdroj obrázku: Forbes.com
The automaker Porsche has begun using a similar assembly system, one that abandons traditional assembly lines, at its factory in the German city of Zuffenhausen. Here the assembly line is all but abolished. Instead, vehicles pass through manufacturing along a predetermined route on driverless transportation systems (AGVs) and are then completed step by step. All of this greatly increases flexibility. The speeds of the AGVs can be varied, as can the times spent at assembly stations, and theoretically not all vehicles need to pass through production via the same route.
The workings of microfactories prove to us all that the push to go local doesn't have to just be about consumer goods or food production, but can also concern the highly globalised automotive industry. If we also consider industrial sustainability and the chance for relatively easy automation and robotisation, the result is an attractive alternative vision for the entirety of industrial production. All the same, however, there remain questions regarding how to ensure e.g. just-in-time deliveries and shared quality standards at microfactories.
Share article
Top stories from logistics, production and IT.
Subscribe to Aimtec Insights
By registering, you agree to the processing of your personal data by Aimtec as described in the Privacy policy.
Get top stories and articles
from Logistics, Production and IT.
Subscribe to Aimtec Insights
By registering, you agree to the processing of your personal data by Aimtec as described in the Privacy policy.
Related stories