Catch a Ride with Autonomous Guided Vehicles into the World of Industry 4.0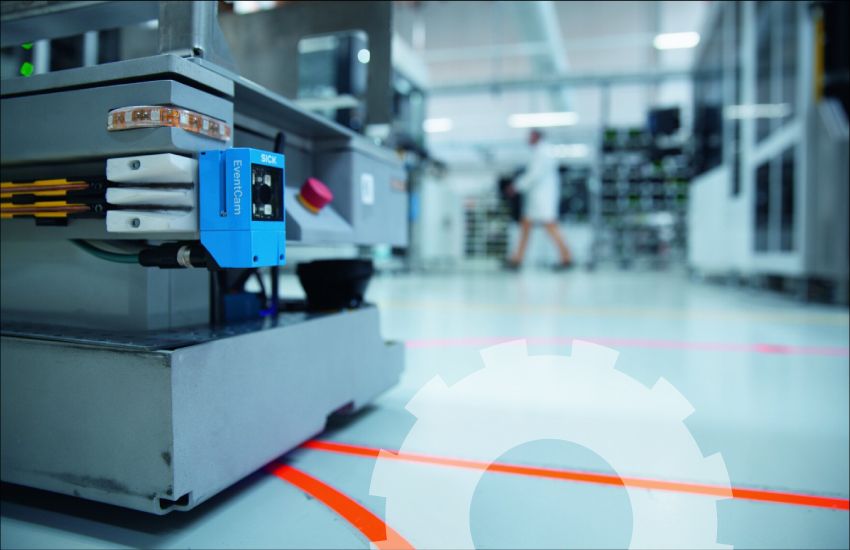 While self-driving is fairly problematic for automobiles, carts without human operators are appearing in factories and warehouses with growing frequency. They differ in how they navigate and in the degree of their autonomy. For intralogistics, autonomous guided vehicles are a way to make processes faster and more efficient, and naturally, they're also a way to free up people's hands. Because they're moving around among people, safety is important as well.
For the transporting of manufacturing parts and components within a factory, the removal of crates and packed goods boxes from storage, and also the transporting of finished goods, manufacturers can use AGVs (Automated Guided Vehicles) and their smaller siblings, AGCs (Automated Guided Carts). Robust tractor and platform AGVs, meanwhile, help workers with transporting heavier loads.
The future lies in the use of collaborative robots moving around on autonomous carts from one work centre to another to meet current needs.
As the way in which we manufacture goods changes, with a portion of line production being replaced by work islands, we're seeing the birth of new demands on intralogistics and autonomous carts. At factories, where people are present, that also means high demands on safety and on collision prevention. Carts' anti-collision systems are also important in order to protect property and prevent collisions with other carts. The driving force for innovation here is e-commerce, which is pushing manufacturers to speed up logistics and shorten AGV idle times. The future lies in the use of collaborative robots moving around on autonomous carts from one work centre to another to meet current needs. Modern autonomously guided equipment thus must have precise navigation, report on its position, be safe for people and property, and run as efficiently as possible.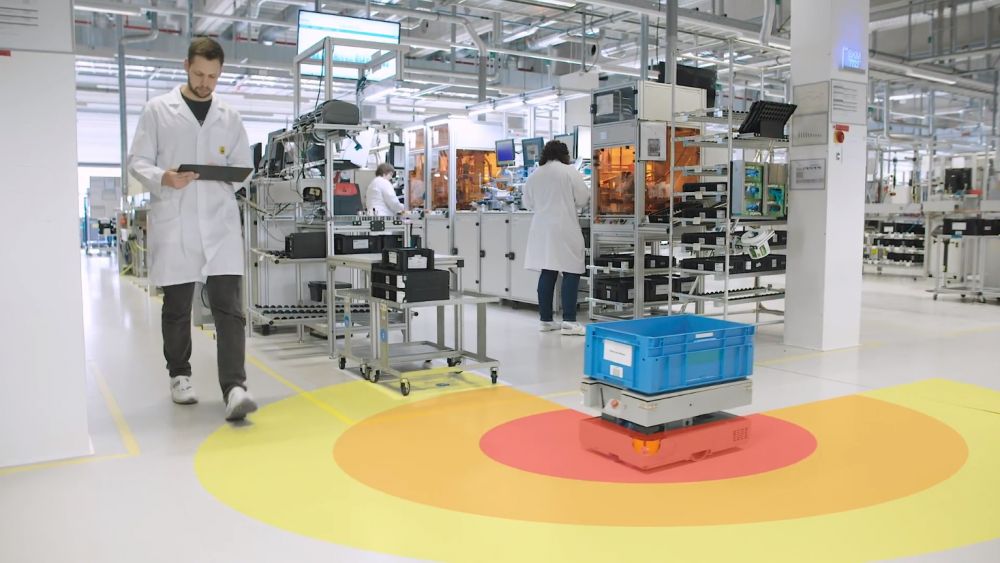 It's all about technological advancement and new possibilities for the use of automated vehicles, hand in hand with the types of sensors and safety elements that can be installed.
AGVs' navigation and positioning
Line guidance – Sensors for the detection of a magnetic or coloured stripe are placed into the vehicle's floor; navigation utilises a virtual track.
Localisation – Spatial localisation is enabled by 2D LiDAR scanners based on a contour map or on reflectors, bar and QR codes on the floor or the reading of RFID tags. Identification and communication make use of GPS, GSM and UWB.
Motion monitoring – Feedback from moving parts is gathered from encoders and motor feedback systems, or in some cases from induction sensors or tilt sensors.
Environment scanning and AGV safety
Collision prevention

– LiDAR-based 2D sensors, ultrasound sensors and anti-collision 3D snapshot cameras work hard to keep vehicles from colliding with each other.

Human safety

–

Safety sensors and safety LiDAR scanners eliminate human injuries.

Safe guidance solutions

–

Safety relays, safety-focused encoder solutions and Flexi Soft safety modules all serve for the safe navigation and guidance of these vehicles.

Recording of collisions and important events

– the EventCam camera captures everything happening behind and in front of each cart so that it can be played back later.
---

---
Load handling
Load detection

–

Optical and ultrasound sensors and 2D LiDAR scanners detect the presence or absence of a cart's load.

Identification and monitoring

–

UHF RFID scanners and barcodes automatically identify the material being transported and feed data about it into the control system.

Spatial location of a cart's load

–

This is monitored by encoders and tilt sensors, position detection sensors and 3D snapshot cameras.
Some estimates state that the AGV and AGC markets will grow in 2019–2024 by up to a full 17% per year. We're already encountering them today in a number of applications, and considering the growing cost of human labour and the need to shift people into positions with higher added value, we can expect that the need for the use of these devices will grow. A company named SICK is the leader in intelligent sensor and safety systems that can be used for guiding AGC and AGV autonomous vehicles and keeping them safe. This company is a global provider of the broadest portfolio of products for AGVs/AGCs. And this is one reason why they are cooperating on a vast variety of projects worldwide in which they are passing on their know-how.
Share article
Top stories from logistics, production and IT.
Subscribe to Aimtec Insights
By registering, you agree to the processing of your personal data by Aimtec as described in the Privacy policy.
Get top stories and articles
from Logistics, Production and IT.
Subscribe to Aimtec Insights
By registering, you agree to the processing of your personal data by Aimtec as described in the Privacy policy.
Related stories