Moving to the cloud is just a matter of timing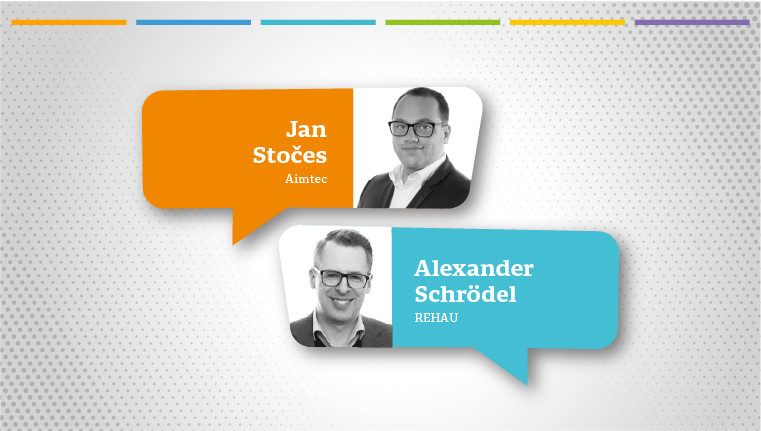 Alexander Schrödel is responsible for IT at Rehau Industries. The company, which supplies polymer solutions for automotive, construction and other industries, has extensive experience in EDI. Schrödel himself sees the electronic exchange of data as a condition that allows the group to do business in the volume and time required. "It is a great challenge to achieve automation in the entire process chain and to start perceiving and optimizing the EDI process as a whole and not just as a queue of orders," says the German manager in an interview with Jan Stočes, Director of Cloud & Integration Solutions at Aimtec.
As a major supplier in the automotive industry, you obviously use EDI. From your perspective, how has the importance of EDI changed over the last few years?
In terms of the automotive supplier business, not much has changed. When it comes to messaging, as a Tier 1 supplier we have been working with OEM clients on an EDI basis for twenty, maybe thirty years. In every new project we get, we are able to exchange data according to the usual messaging standards. So we not only meet the standards of the german Automotive Industry Association VDA, but as a global player we also meet the standards that multinational OEMs and other customers want from us.

Considering the size of your company, I would estimate that you cover more or less all the processes where electronic data interchange can be used with EDI. Can you think of a feature that you feel is currently missing from EDI or that would help so that EDI could be used for something else?
We are not only automotive suppliers - we have a wider scope, and are active mainly in the construction and industrial sectors, but also in the furniture sector. So we are familiar with all messaging standards. We have almost all communication channels for message exchange, whether it is EDI in the form of SaaS, web EDI or just email communication. We use various mixed or hybrid forms. The range is huge, we have thousands of clients and hundreds of different types of mapping from orders to credit notes and recalls to ASNs or order confirmations. So it's the whole spectrum, and we've been doing it for a long time. But I can't say that we are currently troubled by any particular shortcoming.

In recent years, APIs have been considered as a replacement for EDI. Today, the two technologies are seen as complementary. Do you have experience with any projects where webservices were used?
It always depends on the level of technological maturity of our customers. In the construction industry it is not well established, and in the automotive industry people still stick to the usual message exchange formats. Thus we too will continue to use the conventional routes, so I don't see any major trend reversal in our business yet.

Another frequently discussed topic at the moment is the cloud. Cloud solutions are very popular in the SME sector. In large companies, on the other hand, on-premise solutions are more prevalent. How do you address this issue of cloud versus on-premise at Rehau?
In the past, we invested heavily in on-premise solutions and our own hardware. It concerned not only EDI, but also other technologies. We have our own data center, our own EDI converters that we host ourselves. But moving to the cloud is only a matter of time, and it depends on when the time is right. We need to be prepared for this and know exactly how the technological evolution of these on-premise solutions will take place. Related to this is the future reinvestment required, for example in hardware infrastructure, but it's really just a matter of getting the timing right. Because our competitive advantage is not hosting EDI converters, but the ability to offer our customers maximum service and compatibility with maximum formats when exchanging messages. This is what leads to effective collaboration. We do not rely on hosting, although we have a data center. This does not add any value to the EDI as a service theme. So yes to the cloud, the question is when.

There is one more topic I would like to mention in relation to EDI, and that is ROI, or return on investment. Automation is a big topic these days and naturally looks appealing if you have a semi-automated or fully automated warehouse with robots that can replace a lot of employees, so the return is relatively quick. But in the case of EDI, you won't replace the entire staff as quickly. From your point of view, what is the most important thing to ensure that investments in EDI pay off as quickly as possible?
Two things must be distinguished. Firstly, in the automotive industry and in some other industries, it is not possible to process data in given volumes without EDI. So in many places, EDI is a prerequisite for being able to collaborate at all, both in terms of volume and time. This means that manual processing cannot work at all. So return on investment is not the primary issue here. In more traditional industries, including construction, the question is how much automation for efficiency can be achieved if I already have automated processes for order processing or invoice processing. From Rehau's perspective, the topic of ROI is of course also relevant. The return is usually relatively fast in terms of optimising process costs.

Let's say I have a warehouse that is in the process of upgrading, say from a barcode scanner to a fully automated system, and I have a WMS. If I already have EDI, when does it make sense, if ever, to embark on such a change with a company as large and as complex as Rehau? Then the question of return on investment becomes even more important.
The big challenge is to achieve automation along the entire process chain. The added value is already that we receive orders from customers ourselves and do not have to receive them through employees via other channels, but it is even more important to introduce further automation of these processes. Ultimately, it is also possible to automate at the end-to-end process level. And here the challenge is definitely to start perceiving and optimizing the EDI process as a whole and not just as a queue of orders. This holistic view of end-to-end processes is also relevant for Rehau and should be further developed as it has potential in other digitalization projects.

As you mentioned in the introduction, you use a lot of formats in EDI and you have a lot of customers. This results in an enormous amount of data that needs to be processed and stored in some way. Do you work with this data further in the sense of data mining, machine learning or some kind of analysis?
We do not do special analyses of isolated data obtained from EDI communication. Here again, the focus is more on the assessment of End-to-End processes. Data mining is also a topic for us in order to automate partial manual processes.

As has also been mentioned, you have many years of experience with EDI. Do you think this technology has a future or will it be replaced by a new one?
There are different trends in different sectors, especially in the automotive industry, where the topic of master data is gaining importance. Part of this is related to the new Supply Chain Act, but it is not just about legislation. The more important aspect, in my opinion, is the master data in the business relationships between manufacturing companies, which is the basis for EDI. I'm already seeing a shift here towards more connectivity and also more synchronization of that master data when it comes to manufacturing companies.

It is evident that EDI as a technology is reaching a new level. It is itself very widespread and will continue to exist, at least for the foreseeable future. And perhaps this issue of master data is something that will further enrich this technology.
Alexander Schrödel, CIO, Rehau
Since you mentioned other interconnections, is Rehau involved in Catena-X technology, for example?
We are in the research and information gathering phase. So far, we are observing rather than actively participating. But of course, it's a mammoth project of the big players, which we can't ignore. And when the time comes, maybe we'll get involved. I recently spoke to the CIO of a large Tier 1 supplier who is involved in this project and is delighted with the progress and passion of those involved.

Looking at the supply chain, how willing are your suppliers to implement EDI or use this technology?
Mostly a lot. On the supplier side, we usually work with larger companies that also have adequate IT capabilities, so they support EDI processes and their standards and requirements are similar to ours. For new partners, we usually agree on the form of EDI communication right at the beginning and implement it relatively quickly.

Do you offer suppliers WebEDI platforms in addition to traditional EDI?
Yes. We work with different forms. But let's talk about what WebEDI specifically means. Data transfer via the portal is possible and quite common in our country. However, other forms of structured data transfer are also offered between the conventional e-mail and EDI exchange. Whether it's a kind of intermediate step in technological maturity or perhaps a backup scenario in case EDI doesn't work.

Have you encountered any recurring obstacles or major problems when implementing EDI with your large suppliers?
The biggest problem is the large number of requirements. This means much greater demands on capacity to meet all these demands and the potential associated with them. We're not succeeding in this. This is causing problems such as certain waiting times for our business units and also for suppliers or customers. Of course, this does not apply to projects in the automotive industry with OEMs, where the SOP requires that everything runs according to schedule, but in other sectors it is a matter of negotiation and agreement with our partners and waiting times there, i.e. capacity, are a big problem.

Can you also tell us where you look for inspiration to stay up-to-date in your field as a CIO?
During the coronavirus pandemic, community connectedness was greatly enhanced. Networking became extremely fast and the range of communication formats also expanded. I myself maintain a very intensive exchange of experience with colleagues in the field, with whom we meet regularly. But we can also exchange ideas outside these events. In other words, we are now moving in networks, not in events. This is actually the trend that is also most important for the exchange of facts, for the formation of opinions on new initiatives that others have launched, and this exchange of experience is extremely valuable. In addition to this, the role of the CIO includes, of course, a daily portion of information from all possible media and channels. After all, I am an "information officer", so I should have relevant information 24/7.

Do you want Error-free and effective communication with your customers and suppliers, just like at Rehau Industries? >> Take advantage of a non-binding consultation with an Aimtec expert!


---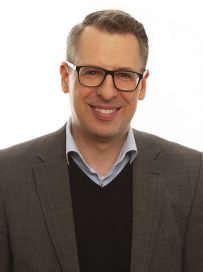 Who is Alexander Schrödel?
Alexander Schrödel has linked his professional life to Rehau, where he has worked for almost two decades. He has worked in areas such as strategic planning, process management and has held various management positions in the IT departments of the REHAU Group over the last 15 years. Since July this year, he has been responsible for IT at Rehau Industries and IT Services of the entire group as CIO.
---

Read another expert interview.

Share article
Top stories from logistics, production and IT.
Subscribe to Aimtec Insights
By registering, you agree to the processing of your personal data by Aimtec as described in the Privacy policy.
Get top stories and articles
from Logistics, Production and IT.
Subscribe to Aimtec Insights
By registering, you agree to the processing of your personal data by Aimtec as described in the Privacy policy.
Related stories