Behind the scenes: how new resilient logistics is being built at Skoda Auto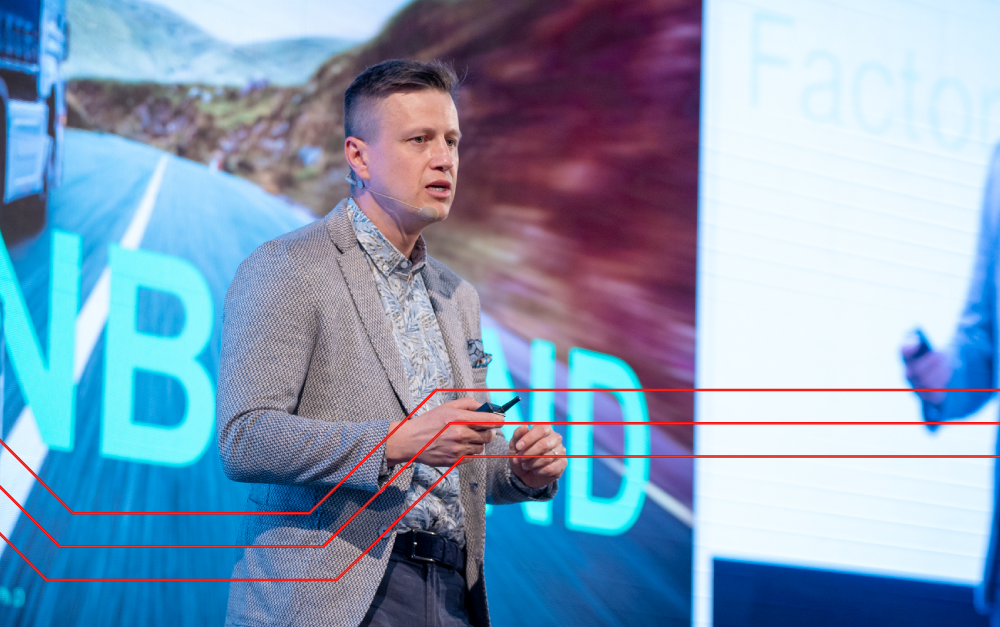 The demands on manufacturing logistics change over time, and this change has accelerated at an unprecedented rate in recent years with the accompanying phenomena of the Covid-19 pandemic. David Strnad, Head of Logistics at Škoda Auto, presented how these challenges are being dealt with and how they are preparing for the next ones in the largest domestic automotive company at the Trends in Automotive Logistics 2023 conference.
"The complicated situation of recent years has affected not only the logistics of Škoda Auto," says Strnad at the beginning of his speech in Pilsen. When Škoda Auto surpassed the one million car sales mark for the first time in 2014, it seemed that the growth trend would have no end. However, in 2020, the Covid-19 pandemic crippled manufacturing in Asia along with global supply chains, resulting in a fatal shortage of semiconductors in the automotive industry, and sales targets began to quickly recede.
"When we learned that the semiconductor supply shortage would last six months, we didn't want to believe it. Supplier problems are solved in weeks, not months. Today we know that we would actually have been glad for those six months," Strnad explains the reasons for the sharp slowdown in the automotive industry in Europe.
"In the past, a customer came to the dealer and three months later he or she had a car. It's taking longer today, but we're approaching that threshold again," Strnad explains, adding that this is also due to the reverberations of the semiconductor and logistics crises. The next two years will thus be a certain stress test that will evaluate the newly emerging model of production logistics at Škoda Auto. What does it look like?
Resilient in place of lean logistics
Strnad illustrates the complexity of the whole process by the fact that 3,500 trucks arrive daily at two Czech carmaker's plants (in Mladá Boleslav and Kvasiny), which is the same number of cars produced each day at full capacity. The company sources parts from 1,600 suppliers and buys 38,000 parts a day. It is therefore obvious that with such volumes, the company's logistics systems must run absolutely flawlessly.
Prior to the pandemic, Škoda Auto strived for lean logistics and minimization of inventories. This was actually the ideal environment, according to Strnad. And today? Instead of the former 11 programs, as types of production scenarios, there are now 45 programs. Warehouse capacities have increased by 60 percent due to the threat of supply shortages. The ideal of leanness has been replaced by the ideal of resilience.
Reliability must be a fundamental characteristic in all three logistics segments: inbound, in-house, outbound. Digitisation and automation should ensure this. Some implementation projects are already running, others are being deployed and still more are in the pipeline.

Inbound - integration thanks to SAP S/4HANA
"One of the big projects in the field of inbound is the deployment of SAP S/4HANA. We want to use artificial intelligence for the complete management of the logistics chain, transport and ordering of materials, as well as for the visualization of the entire process, including transport directly to the factory and the assembly line. One of the reasons is that we want a standardized system for the entire group, not just for Škoda Auto, and the specifics of each plant were a big challenge when implementing SAP," Strnad says. The project to deploy this ERP system has been going for four years and, once completed, will run at 40 Volkswagen Group plants, replacing 23 existing systems. In the Czech Republic, it should be launched first in the Vrchlabí component production plant in October 2023.
Another use for AI should be in tracking inventory movements. "Today we don't know exactly which driver is coming, where the truck is, and whether it will arrive when it is supposed to. The whole process is managed by people. In the future, all the data should be collected by AI, it will evaluate it, track every truck, and it will know from the factory what has priority. Another change will be digital passage so that the driver does not have to go to the gate with papers. This will apply to both entry and exit. We are working intensively on this now," Strnad introduces the modernisation of logistics, adding that it should be ready next year.
Of a minor nature, but nevertheless of some importance were also the corrections Škoda made in the Waze navigation app, which helps external drivers in particular with orientation in Škoda Auto plants.
In-house - automatic battery loading
In terms of automation of in-house logistics, Škoda Auto has previously introduced the KLT warehouse, which includes fully automated entry and exit, autonomous material handling and KLT contour recognition cameras. This project was started in 2017 and the company implemented two warehouses at once, resulting in savings.
A more recent project is a fully automated battery warehouse. "About a year ago, we started assembling batteries for the Enyaq model, where we receive modules and make batteries out of them. We not only distribute them around our plant, but we also ship them elsewhere within the Group, and here for the first time we have implemented automatic loading, both on trucks and trains. The trucks are used for dispatch around the plant, and trains for dispatch within the group," explains Strnad, adding that no employee intervention is required in this process. (The solution won the VDA Award in June this year - editor's note)
Outbound - cars will find Atlas
Regarding sales, nobody is quite their own master and this is also true for Škoda Auto, which depends on the reliable functioning of transport routes. Here too, however, the company is striving for optimization and automation. One such tool is Atlas Dezentral, which locates the individual cars produced, shows which ones will be shipped and informs forwarders. According to Strnad, digitalization and automation are the cornerstones of the resilience of the logistics process in this segment too.
Logistics 2025
By the middle of this decade, Škoda Auto wants to launch a new logistics centre by the D10 motorway, with autonomous trucks providing intra-company transport and another autonomous vehicle transporting manufactured cars. The car factory is also working on a semi-autonomous truck project for international transport, whose "driver" sits in an office and remotely controls up to five vehicles with the help of several monitors.
What else has Škoda Auto done and what are their plans for the rest of this decade?
This was shared by David Strnad at the TAL 2023 conference. You can watch the video of David Strnad's presentation (recording is available only in Czech).
---
Share article
Top stories from logistics, production and IT.
Subscribe to Aimtec Insights
By registering, you agree to the processing of your personal data by Aimtec as described in the Privacy policy.
Get top stories and articles
from Logistics, Production and IT.
Subscribe to Aimtec Insights
By registering, you agree to the processing of your personal data by Aimtec as described in the Privacy policy.
Related stories