How not to get lost in the flood of OEM concepts in EDI communication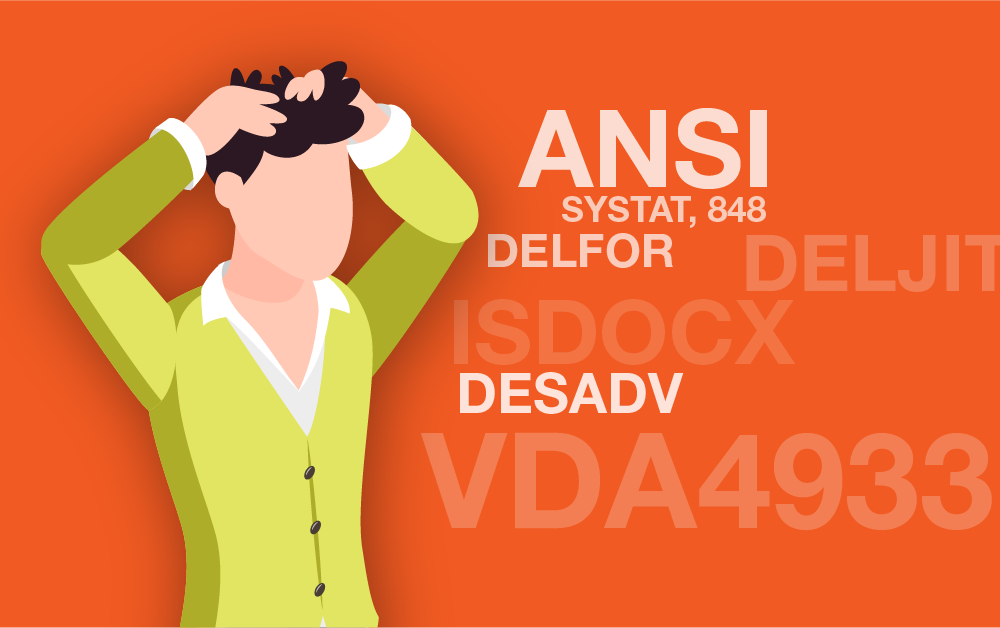 Recall (4905, 4984, DELFOR, 4A3, ANSI 830). Yes, this is also the OEM requirements for EDI communication. Hundreds of message types are exchanged, with each manufacturer requiring different standards. This creates a variety of different concepts that require different EDI system settings.
It is one thing to read and convert an EDI message into the required format, but it is quite another to set up processes in logistics. So how to secure the process in the sequence so that the sequenced parts are not confused? How to deal with the OEM guideline? How to find an expert for whom OEM requirements are not a nightmare, but rather how they earn their daily bread? These are questions that every supplier must address in preparation for sequencing deliveries to automotive plants.
How do OEM concepts differ?

All OEMs have the same goal - to have everything in the right place at the right time. The paths to this goal are very different, both in terms of processes and standards. How are they different? In the preparation of deliveries, the calculation of forecasts, the form of labels or the way ASN messages are sent, which depends for example on the way pallets are stacked.
While Volkswagen sends recalls to suppliers in cumulative numbers that continually add up, Stellantis works in RAN numbers. These work similarly, but are calculated through a different mathematical model. To make matters worse, other OEMs (Renault, Hyundai, BMW, Faurecia) also have different MURN or PickUpSheet principles. Stellantis also requires suppliers to validate TENOR by testing processes that each supplier must be able to cover, even if they do not match how they will actually deliver. How to deal with all this? Simple. An automotive-specific EDI solution provider knows the specifics from A to Z and can cover everything automatically.

Security of delivery

Companies operating in the automotive industry can either try to develop an EDI solution in-house or seek external help. Both have their pitfalls. For an internal IT team, developing and managing EDI is a big burden, but even with an external company, success may not be guaranteed.
A common problem with working with an outside contractor is that even these specialized firms do not have enough competent personnel to be able to implement the project properly and on time. In addition to implementation delays, it is also often the case that the delivered solution fails at the first "milestone", which is the EDI test with the OEM - i.e. receiving the test recall and sending the test ASN.
"Our long-standing focus on the automotive industry has enabled us to acquire know-how that allows us to know the individual processes. Our pre-configured template solutions, which meet the requirements for EDI message format, sequential production preparation and more, allow us to take templates and adapt them to a customer's specific processes in a very short time. For example, thanks to our solutions, Estra passed a specific EDI test with BMW in just three months."
Luděk Zahálka, Project Manager, Aimtec
Integration into SAP ERP
The rapid development of automation, digitalization and optimization in the automotive industry is also leading to a rapid proliferation of various requirements from OEMs to suppliers, not only in the context of EDI communication. In the era of Just In Time and Just In Sequence (JIT/JIS) delivery modes, many suppliers find it difficult to set up communication and arrange deliveries to automotive plants.
"Each individual case requires a different solution. We have a broad team of experts, which includes experts on individual automotive companies and their specific requirements, for example on labels, as well as on JIT and JIS schemes. We often integrate the EDI solution into SAP ERP and ensure the correct setup on both sides. Alternatively, we can integrate the entire JIS/JIT in the DCIx platform, which enables full vertical and horizontal interconnection of the supply and customer chain," Zahálka adds.
EDI mapping
Setting up EDI communication correctly means avoiding errors and therefore avoiding penalties in the form of OEM charges. If you have EDI in the form of your own on-premise solution, take advantage of possible optimization in the form of mapping. It converts structured EDI messages into a readable form for the ERP and in turn prepares the data from the ERP for the EDI system to send it in the required structure to the trading partner.
Don't gamble with your business and jeopardize your cooperation with OEM partners with EDI deficiencies. Get in touch with someone who knows the OEMs' requirements inside out.
---
Which way to EDI? We'll be your guide.
Do you dream about error-free and effective communication with your customers and suppliers? We can help you.
>> Schedule a non-binding consultation with our expert

Marek Šabatka
---
Share article
Top stories from logistics, production and IT.
Subscribe to Aimtec Insights
By registering, you agree to the processing of your personal data by Aimtec as described in the Privacy policy.
Get top stories and articles
from Logistics, Production and IT.
Subscribe to Aimtec Insights
By registering, you agree to the processing of your personal data by Aimtec as described in the Privacy policy.
Related stories