Digitalisation brings new perspectives on manufacturing efficiency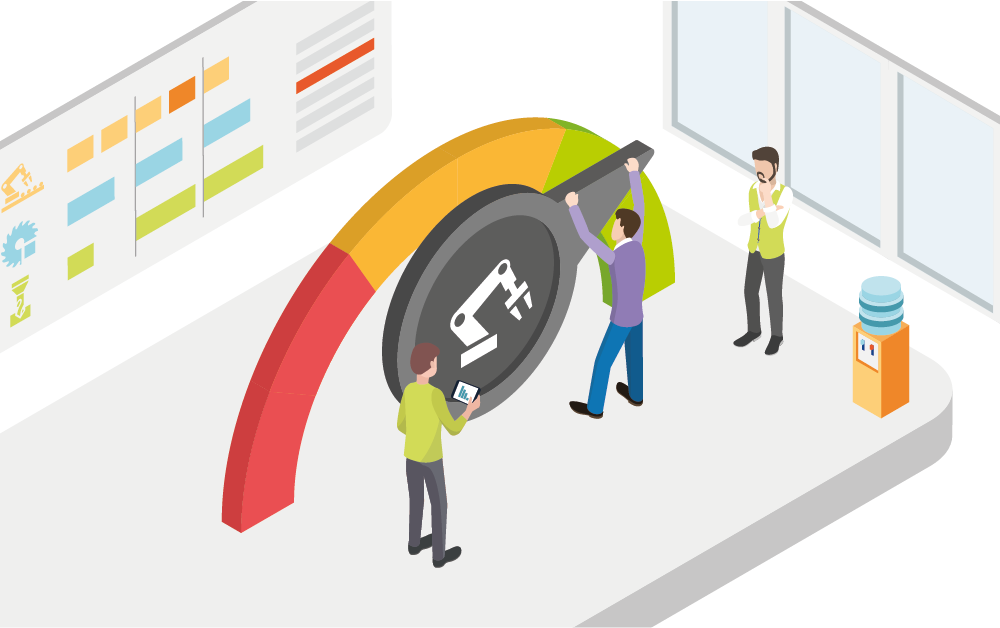 A register of scrap and manufactured units, operator and machine downtime tracking… approaches like these have become a standard part of production monitoring and reporting. In our digital age, can monitoring of overall equipment effectiveness (OEE) in terms of availability, performance and quality be improved even further, and can the needed data be acquired even more quickly and easily? What's changing in this area, what new features is digitalisation bringing, and can we expect any specific tangible results?
Availability data enables a flawless overview of machines and represents the largest savings
Availability data is one of the fundamental parameters for defining and measuring manufacturing efficiency. This data comes from monitoring the downtime of people and machines. Downtime amounts to the greatest monetisable asset standing idle, and the remedial measures here can be introduced very quickly. Availability is monitored based on time reports (time snapshots) for people and machines. The foundation here is to keep a register of all regular and irregular downtime states and the reason why they occurred. Today we are checking ever-shorter idle times, so for precise and detailed monitoring, it is important to digitally connect machines and obtain machine data and an overview of all downtime periods – even short ones. This provides for flawless and reliable real-time monitoring that is not dependent on machines' operators. This also enables instant reactions, escalations, solutions and corrections.
A performance register and a data display at each work centre help to increase motivation
Every company knows the ideal standardised performance for each of its key work centres. But manufacturing directors want to know why the real performance is always different – lower. For now, data from operators is primarily obtained in batches and always after-the-fact – often at the end of a shift or the next day. It typically includes detailed data on the number of units produced in a certain amount of time. Integrating machines and monitoring takt time provides a record of every piece (every stroke). This makes it possible to monitor even minor deviations from the norm and even brief drops in production. If a deviation exceeds the defined tolerance, an escalation of the resulting non-standard situation is initiated automatically and resolved in real time. The displaying of deviations from the ideal or from the plan for the work centre helps to motivate workers to meet norms.
Monitoring of every scrap unit from the moment it arises – and swift escalation
Manufacturing quality assurance and the register of good and scrap units are the foundation for production monitoring. Besides manufactured units, the operator also registers scrap units and defective, blocked units, while also recording the reasons for bad production. Registering scrap units as they arise rather than at the end of a shift or production batch is useful from the quality standpoint as well. An online register of scrap units makes it possible to set boundaries, escalate things swiftly (to the foreman, to maintenance or to quality assurance) and commence remedial measures in time. If a machine is digitally connected and data is collected from it, the circumstances behind a defect can be paired with the machine's current parameters and analysed.
What in fact makes digital OEE monitoring the right choice?
Unlike operators, manufacturing machines never forget and always register every downtime incident that reduces their performance. Monitoring even the smallest discrepancies makes it possible to catch downtime lasting even just a single takt, which would normally never be discovered. The main change is in the immediate response by all parties, which can then arrange a fix and prevent unnecessary losses. After all, anything that can't be manufactured today can't be made tomorrow without additional costs.
"When a company decides to introduce digital OEE monitoring, this does not slow down takt times or operators. It makes it possible to send data to machines and receive important parameters for future managerial decision-making in return."
Václav Zajíček, DCIx Product Manager, Aimtec
The benefits of digitalising manufacturing
Increasing manufacturing performance by eliminating selected downtimes and causes of performance reductions.
Ensuring swift escalation during non-standard situations and deviations. Enabling responses by decision-makers in time for them to make changes and prevent losses.
Acquiring precise data for evaluating manufacturing and people = a digital image.
Providing a simple motivation for each operator/worker.
Saving further costs during subsequent administration and data rewriting work; saving time for management.
Reporting production for the ERP and creating precise source documents for shop planning or APS deployment.
Where should you start? Engage a team and do reporting
The path to simple and swift introduction of digital OEE monitoring has several steps. At the start it is good to choose a single field, work centre or machine. Pre-prepared "Mini-MES" solutions, which can be deployed in just one week or less, may also be the right path for you. It's important to assemble a team of people who will devise and implement the entire process. These people will gradually learn and expand the solution. Constant evaluation and visualisation of real-world status are key. Outputs must be visible; otherwise it can seem as if there is no progress. Steps must be taken to ensure machines can be connected, over an OPC/PLC interface or otherwise. Maintenance people can often handle configuration, but for custom machines this tends to be more complicated.
Choose only a part of production, one or two machines, at which pilot operations can begin as soon as possible.
Choose a machine that can be connected digitally.
Prepare and involve a team, and plan for them to share their knowledge with other work centres.
Provide visualisations of current and average performance and deviations from the ideal right at individual work centres. What cannot be seen cannot be changed.
Involve every stakeholder – manufacturing, quality and maintenance.
Get involved in the data, run analyses and show that you harness these outputs in your daily practice.
Share article
Top stories from logistics, production and IT.
Subscribe to Aimtec Insights
By registering, you agree to the processing of your personal data by Aimtec as described in the Privacy policy.
Get top stories and articles
from Logistics, Production and IT.
Subscribe to Aimtec Insights
By registering, you agree to the processing of your personal data by Aimtec as described in the Privacy policy.
Related stories