Asprova APS ‑ a proven conductor in a new tuxedo plans production down to the second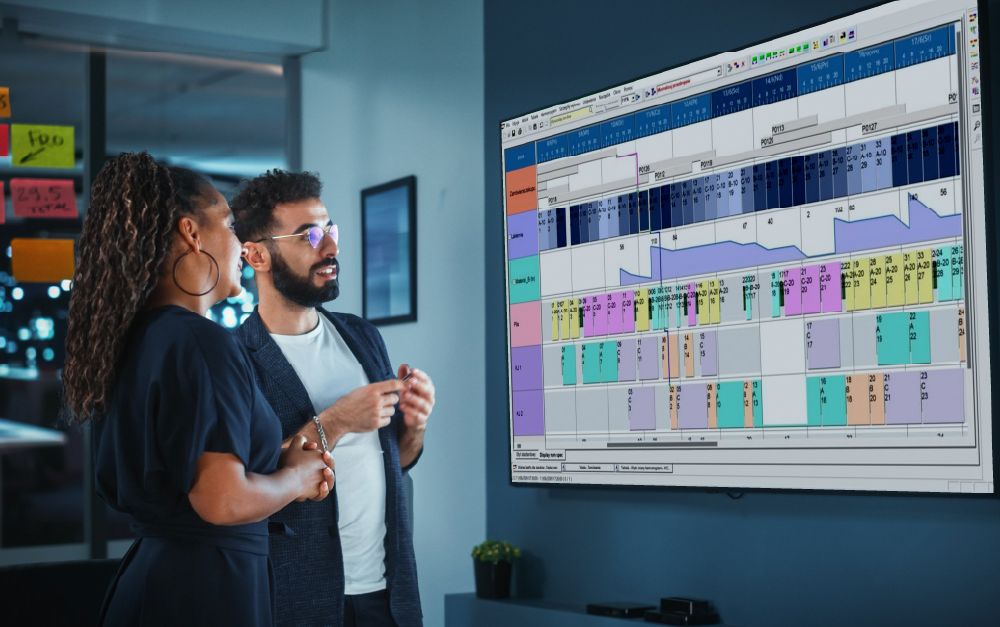 The almost limitless possibilities for variability in production are forcing companies to look for ways to make it more efficient. One of the tools that can significantly help with this is the Advanced Planning and Scheduling (APS) system. In Europe, more than two dozen suppliers offer them, but there are fewer really good ones. Automotive IT specialist Aimtec relies on Japan's Asprova APS. Its new version has several advantages - even faster scheduling thanks to optimized algorithm, machine learning and a user-friendly interface. But it doesn't stop there.
The Japanese manufacturer Asprova has been developing its APS as a "stand alone" system for almost three decades. In the beginning, Japanese top companies demanded a solution that would make production as efficient as possible and reduce waste and downtime. With today's Asprova APS, the user does not only get a functional solution, but also the planning know-how of industrial companies that have succeeded in a highly competitive market.
For a few weeks and also long months
Through Asprova APS it is possible to plan production for the next few days or even for a year in advance. In the case of short-term planning, we are talking about two weeks. Asprova can schedule production for each resource (a resource is a machine, a person, a mould, a truck), per day, per shift, per hour, per minute, and even per second.
For long-term planning, this is a period of 2-16 months, for which Asprova can simulate machine and personnel capacities as well as production batch sizes.
The advantage of the APS system is that it can be integrated as a complement to an ERP system, most often SAP, in a customer adaptation without the need for lengthy programming. All possible key functionalities to cover customer requirements are already included in the basic version. The latest version 17 with new functionalities will be introduced this year. As an Asprova partner, Aimtec already knows what current and future users of the system can look forward to.
New interface
Asprova's existing graphic design, as is usual in industrial software, is not very elegant. This will change with version 17. The user interface will be significantly improved, but not at the expense of functionality. On the contrary - the user interface will be better arranged, data linking and display will become clearer and the same applies to reports. The essence of the change is that the graphical user interface in version 17 is more connected to the core of the system, which benefits the speed of work with the system and the creation of the production plan.
Solver and Autonomous Client
A better user interface is certainly a welcome change, but the important stuff is under the surface. Solver is an optimization engine that can optimise production thanks to various algorithms and solution procedures. While Asprova used to optimize over one source, Solver optimizes over multiple sources. The system thus dynamically plans the operations of production orders and rearranges them in such a way as to find the most efficient option from thousands of possibilities. This function helps to monitor and report back which solution variants performed better, changes the initial conditions and corrects the production system.
With consistent data management and an inventory of situations that may arise in the production process, the customer will also be able to use the autonomous client function. In this case, scenarios are set up, and Asprova breaks down a new incoming request into production orders and schedules it itself without a scheduler, which just confirms the production plan and sends it to the shop floor.
The system thus dynamically plans the operations of production orders and rearranges them in such a way as to find the most efficient option from thousands of possibilities.
On the cloud
As the end of support for the current version of the SAP system is approaching, its users will have to switch to the S/4HANA system. This means they will have to choose between two cloud versions of SAP (private or public). Once software is running in the cloud, any additional functionality or integration of external tools is very difficult, if not impossible. Aimtec is preparing the possibility of connecting Asprova as a cloud service and its integration. In doing so, it will certify its own interface for private cloud editions of SAP. Customers who want to integrate Asprova into SAP on the cloud will be able to purchase the interface from the SAP Store. Aimtec is a partner not only of Asprova, but also of SAP, and it is expected that this functionality will be useable worldwide.
Share article
Top stories from logistics, production and IT.
Subscribe to Aimtec Insights
By registering, you agree to the processing of your personal data by Aimtec as described in the Privacy policy.
Get top stories and articles
from Logistics, Production and IT.
Subscribe to Aimtec Insights
By registering, you agree to the processing of your personal data by Aimtec as described in the Privacy policy.
Related stories