Efficient Planning with the Asprova APS System at Autoneum Czech Republic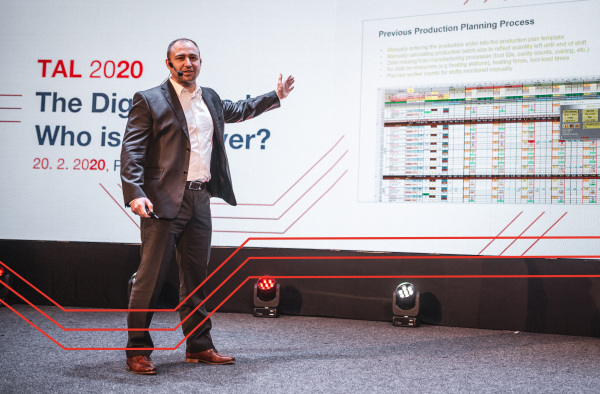 Autoneum has the vision and goal of digitalising all of its logistics processes. In 2019, digitalisation made its way to production planning, with the new solution aiming mainly to increase the efficiency of manufacturing and of plan creation. At TAL 2020, Jan Stejskal, Logistics Manager at Autoneum CZ's Choceň plant – to which the group's other plants are now turning for inspiration – revealed how it all worked out. But is this change in production planning "just" about a tool, or is it a much more comprehensive process?
Before: plant know-how largely bound to planner knowledge
"Never in my life had I seen such sophisticated Excel planning tables," was Jan Stejskal's perhaps-surprising praise of the state before the APS deployment. But he immediately noted that the tables were also very disorganised. The planners had to keep lots of data "in their heads"; parameters for moulds, tools etc. were unstated. Naturally this placed large demands upon planners, and there was no way one planner could stand in for another. Another limitation lay in the fact that orders had to end simultaneously with shifts, and thus the planners had to manually calculate when a batch could be produced and in what quantity.
The shift to advanced planning was intended to change not only what tool Autoneum used, but also how efficiently it planned all its manufacturing resources, including needed operators and their work queues. This mattered because major resources are involved in the manufacturing of chassis covers, insulation materials and noise insulation covers in passenger and freight vehicles, and lengthy manual labour had been needed for planning and manufacturing.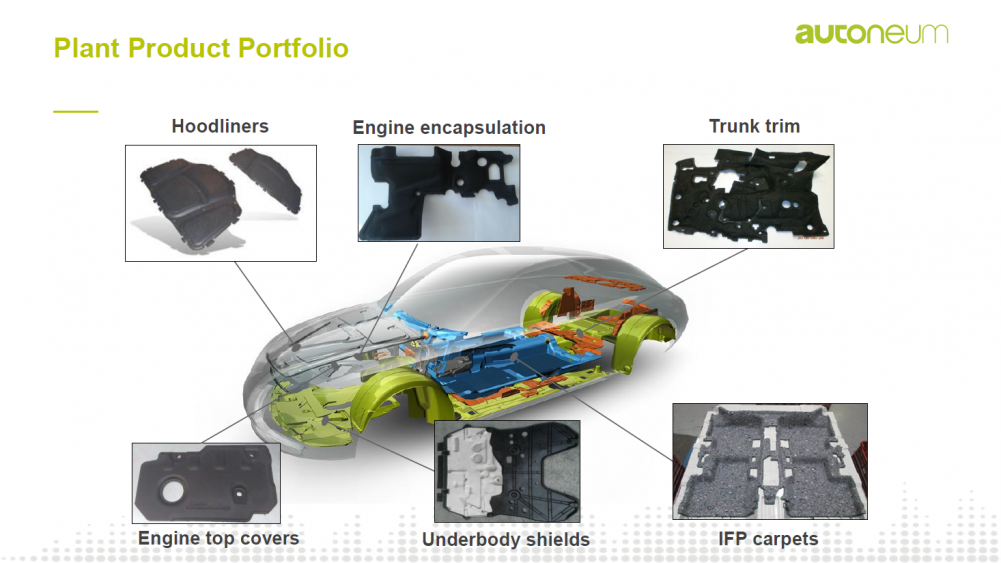 Portfolio of Autoneum CZ
Watchwords: digitalisation and standardisation for plan creation
It was eminently clear that the whole plan creation process needed to be not just digitalised, but also standardised, to help make planners' work faster, more efficient and – when needed – easier to delegate. Autoneum had broad requirements for its new Advanced Planning and Scheduling (APS) system. The Asprova system provided by Aimtec could meet them all.
Autoneum CZ required an APS system that would:
increase productivity,

make manufacturing processes more efficient,

synchronise production batches,

manage all resources and maximise the efficiency of their use,

group production orders by recipe,

reduce energy costs,

make planners' work more efficient,

standardise production planning, and

speed up the creation of production plans.
By deploying the Asprova APS and changing their approach to planning, the Choceň plant has brought more efficiency to not only manufacturing, but plan creation as well.
After: Plans are drafted more efficiently and checked automatically
"This change isn't about how we're ceasing to use Excel for planning and starting to use a system. It's about a change in our approach. We have to have the right data, and have it every day, at every moment, or else the system will not plan correctly." Stejskal underlines this as the main change needed by not only the production planning department, but also the teams in manufacturing, engineering and, of course, IT. But if they ensure the right data is passed to the APS system, it can have great benefits for the firm.
At the start of 2020, Autoneum CZ was in a phase where they were using two data sources for APS. The first was ERP – the data source for manufacturing processes. The second was a file with information on tools – primarily the warming and transport tools. The use of these shared resources needs planning that's all the more careful, and the right data at every moment of production.
By deploying the Asprova APS and changing their approach to planning, the Choceň plant has brought more efficiency to not only manufacturing, but plan creation as well. Work that once needed three planners is now handled by two; the production plan is drafted faster, and more precisely as well, because the system has built-in checks that warn the planners of any discrepancies, such as when they forget to incorporate a particular manufacturing operation or customer requirement. Data on shifts, work weeks, breaks, holidays and more can be entered in Asprova, and the system then uses it to plan production batches so that all materials are ready on time. Its outputs include a work queue for the operators of shared tools and machines, with the above-described configuration ensuring that everyone knows when they should arrive at a machine and which mould needs exchanging. This has increased the manufacturing halls' productivity, and at one of them, it has even increased by ten percent in a single year.
The future: greater optimisation and parallel planning
However, the digitalisation of Autoneum's production planning does not end just with deploying this new system. Further system optimisations and improvements are also upcoming. The first of these is the use of the system in calculations for essential manufacturing processes (product and mould cooling). The second is parallel planning. While today, each of the planners has to wait for other to finish their changes, upcoming enhancements will enable them to draft the plan in parallel. This change will make planning even more efficient and will also let them shift planners onto input data checking, where they will have even more added value than they do in data entry. The system provides them with precisely this data automatically. The aim is to minimise manual involvement in plan creation.
As Jan Stejskal's presentation shows us, advanced production planning is more than just a shift to a new tool – it can bring manufacturers great benefits.
---
Jan Stejskal fills the role of Logistics Manager at Autoneum CZ in Choceň. He has been in charge of the APS system's deployment since its very start. He and a dedicated team produced a GAP analysis and then answered for the decision on which APS system would be introduced – including its correct and successful deployment. Today Asprova is the solution chosen for Autoneum's European plants as well.
Share article
Top stories from logistics, production and IT.
Subscribe to Aimtec Insights
By registering, you agree to the processing of your personal data by Aimtec as described in the Privacy policy.
Get top stories and articles
from Logistics, Production and IT.
Subscribe to Aimtec Insights
By registering, you agree to the processing of your personal data by Aimtec as described in the Privacy policy.
Related stories