The most interesting quotes from Trends in Automotive Logistics (TAL 2023)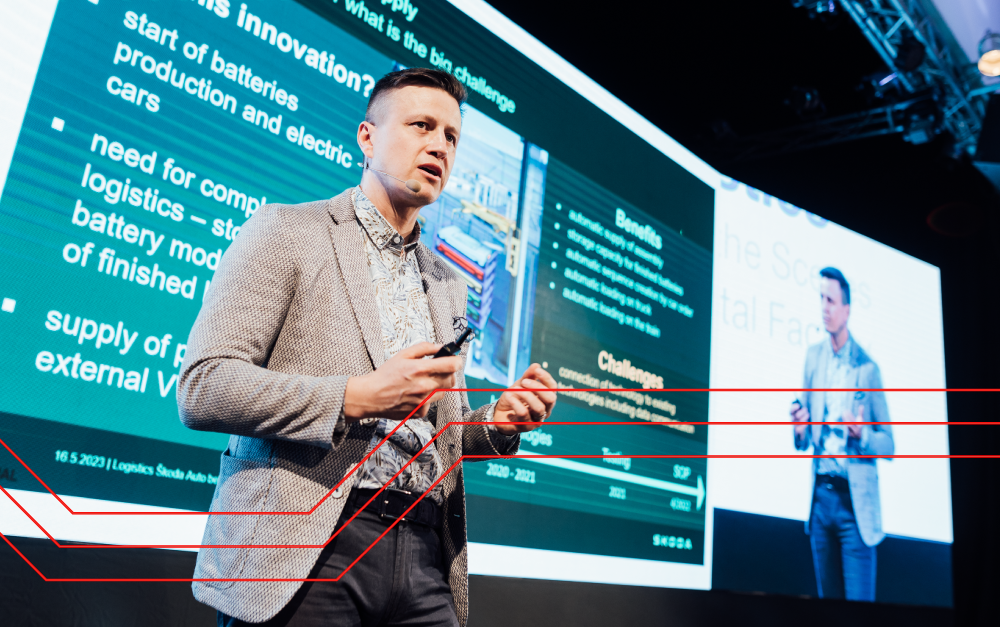 How should we connect AI with logistics? Will a green approach truly be a necessity? What path through digitalisation is being chosen by automotive leaders? At the Trends in Automotive Logistics conference (TAL 2023), we all could hear a wealth of experience, tips, and declarations, which doubtlessly remained in the heads of more than a few of the nearly 400 participants. It's no wonder, too, since this year's theme was "Behind the Scenes at a Digital Factory". Read our selection of the most interesting words on the digital transformation and automation – and change management and green logistics too.
There's no time to lose, or: the first step in change
"Globalization has been beneficial for a majority of the world's population, but we have optimized the system of global supply chains too much. We thought the system had to work because it benefits everyone. We were wrong and we now must deal with a new reality," stated Robert Cameron from the German Association of the Automotive Industry (VDA) in his opening presentation on the driving forces shaping the automotive industry today.
"Even if AI can only give us 30% of what we're hearing today, it will be a fundamental change, to which end-to-end processes and organisations' structures will need to be adapted. If we want to consider using artificial intelligence at all, we have to take the first step and have all our data in a data cluster," was Klaus Straub's advice for participants. Straub is the founder and co-CEO of xelerate and the former CIO of BMW Group and Audi.
"We are gradually moving from systems of record like MES or WMS to systems of reality working with a constant flow of real-time information. Competing in an on-demand economy requires that enterprises have a real-time view of processes, assets, and inventory and use that information to seamlessly orchestrate workflows among robots, people and capital assets." Tom Bianculli, CTO of Zebra Technologies, pointed out this necessary shift – while also offering a secret tip. According to him, the automotive industry has a lot to learn from consumer expectations that are being set by experiences in completely different industries – for example, a Starbucks experience influences the way a consumer thinks about a car-buying experience – something he referred to as 'liquid expectations'.
Challenges and inspiration from real-world projects
"The problem of how we needed to build a 6.5-metre warehouse within just 6 metres turned out to be the easiest one," noted Denis Kittrich from Brano with a smile. Kittrich's presentation described this Tier 1 supplier's path to a fully automated warehouse.
"Our goal is to standardise as much as we can. We see an example in SAP S/4HANA, artificial intelligence and the unified system that we're deploying at 40 plants of the VW concern that will replace 23 existing systems,"
revealed Škoda Auto's head of logistics David Strnad regarding the plans of the largest Czech automaker.
"In the end, our whole ASRS warehouse is controlled by a single employee within the morning shift and a single key user." This is one way the finish line for a project that transforms warehouse operations can look, as we learned from SCHERDEL's Kateřina Donate and Michael Kuhn.
"The main word in 'digital transformation' isn't 'digital'. It's 'transformation'. That's why you need someone who has experience with monitoring human resources and understands managing people and managing change itself." Frédéric Vétil and Bindioa Ouali from aerospace manufacturer Safran focused on this frequently forgotten layer of digitalisation projects.
What do green logistics solutions look like in practice?
"Everyone connects carbon footprints with transport. But what about packaging?" Pavlína Babková from Tier 1 supplier Bosch explained to us why it's often greener to use plastic than paper, and how to change a whole company's mindset and start using materials intelligently.
"'Green' is not just an ideology. It's a path showing how to do business well. For example, for most companies waste is low-hanging fruit where you can make money – we recommend starting there." That was one of the calls to action from Cyril Klepek, the founder of Cyrkl – which he called the "Tinder of waste" – who noted that the coming recycled-materials shortage is another reason in favour.
Worried you'll miss out on all the presentation videos? Have no fear – just sign up for our newsletter.
Share article
Top stories from logistics, production and IT.
Subscribe to Aimtec Insights
By registering, you agree to the processing of your personal data by Aimtec as described in the Privacy policy.
Get top stories and articles
from Logistics, Production and IT.
Subscribe to Aimtec Insights
By registering, you agree to the processing of your personal data by Aimtec as described in the Privacy policy.
Related stories