WMS and MES are changing. How will automation and the cloud affect them?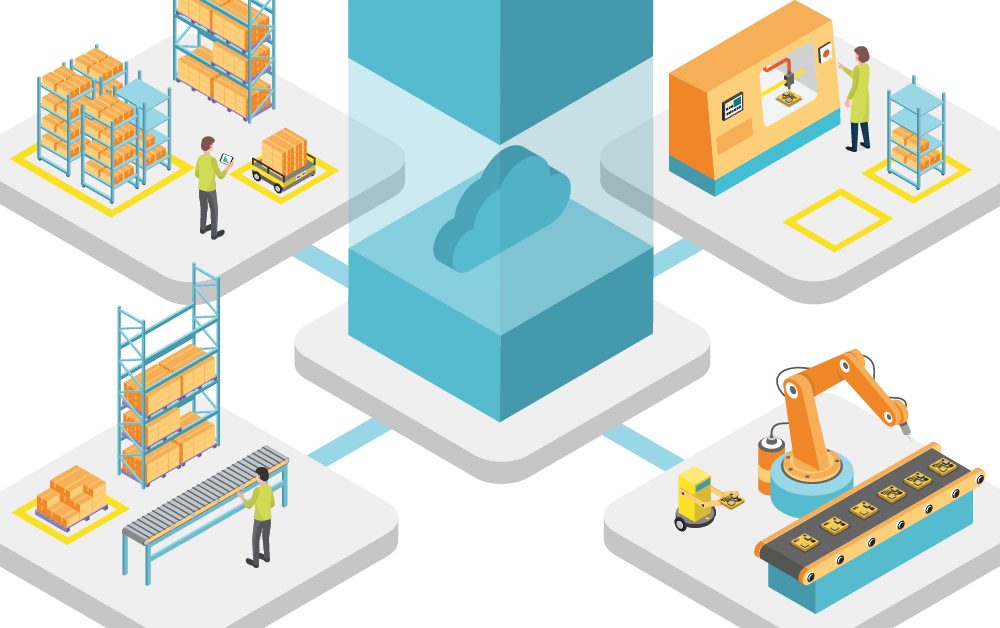 The accuracy of predictions by the consultants at Gartner is uncanny. What sort of future do they prophesy for WMS (Warehouse Management Systems) and MES (Manufacturing Execution Systems)? From monitoring plant or warehouse status, these systems should gradually grow to take on the role of strategic tools – they will enable a degree of automation that until recently was just a dream. All this joined with a perfect overview of the supply chain and, of course, support from the cloud.
The cloud as a condition for efficiency and the only way?
By now, companies are implementing over 50% of their new projects in the cloud. There is an especially strong interest in cloud solutions at low- and medium-complexity warehouses, where SaaS subscription models are significantly reducing initial costs and accelerating project development. As Gartner stresses, the expectation for the market leaders is that they will deploy technological innovations easily thanks to the cloud and will shift from migrating infrastructure and applications to combining the cloud with technologies like AI, IoT, 5G, AR/VR, blockchain and 3D printing. In other words, the cloud will serve as a bond between technologies and enable the handling of more complex scenarios and of those that newly arise.
Solution sales techniques and pricing are becoming fundamental factors within the MES realm. Why is that? MES providers are beginning to shift en masse to a subscription model. As a result, a supplier's ability to offer a transparent contract system based on a monthly or yearly subscription is newly coming to the fore of the customer decision process.
"It is essential that the customer see the individual costs that will be regularly charged to them in their subscription. Effective planning based on real consumption is only possible when the customer understands precisely what they are paying for, why, and what they are getting," notes Aimtec Cloud Business Development Manager Marek Šabatka.
Hearing every last whisper in the supply chain
MES and WMS systems can newly also be thought of as integrated parts of an ever more interconnected and cooperating supply chain that can be referred to overall as MOM (Manufacturing Operations Management), covering quality, logistics, maintenance and planning – in short, the processes throughout the whole of an enterprise and its manufacturing sites. System suppliers are judged based on their understanding of the newly arising concept of cooperation within the supply chain and on their strategies in this area. However, customers are increasingly giving preference to an even broader view, via supply chain suites, which provide end-to-end support for the supply chain and for orchestrating logistics processes. These thus expand our horizons beyond the limits of a single factory towards individual suppliers, enabling the final production point to adjust its own planning via shared data based on the availability of goods from smaller suppliers.
"In today's projects, things go down to the millisecond. But even when you're integrating various technologies, with our solution you can handle such demands easily. A cloud solution naturally also takes care of communication; we communicate with the individual machines over OPC servers."
Rostislav Schwob, Supply Chain Solution Director, Aimtec
A clear and transparent subscription is a must
Another fundamental specific when choosing a supplier is increased operational efficiency and productivity, as the workforce is shrinking and costs (of energy, materials and logistics) are rising. Workforce management, slotting, yard management, dock scheduling and performance management are examples of processes that are rising in importance. A lack of workers is motivating companies to introduce various forms of automation, from AMR (autonomous mobile robots) to comprehensive conventional systems for automation and materials handling. All these things are united by the need for a unified platform enabling the management of a variety of technologies and processes, and thus automation overall. Such systems are termed WCS (Warehouse Control Systems).
WMS and MES will grow in complexity – but also clarity
The WMS market is also seeing a sort of split in its customer base. A smaller but more demanding customer segment is demanding high-performing, automated, comprehensive and sophisticated solutions wherein price no longer plays a fundamental role. The second, mass-market segment is dominated by other factors such as ease of use, reliability, service, support and lower costs of ownership and operation.
And what are the perspectives for MES tomorrow? The difference between IoT applications and traditional MES applications should continue to fade as IoT and edge computing technologies grow stronger. Both users and suppliers will find new, scalable uses above and beyond mere monitoring of equipment status. MES will inevitably take on the role of a platform to which individual devices will connect indirectly, and the quantity of equipment will thus become irrelevant.
Share article
Top stories from logistics, production and IT.
Subscribe to Aimtec Insights
By registering, you agree to the processing of your personal data by Aimtec as described in the Privacy policy.
Get top stories and articles
from Logistics, Production and IT.
Subscribe to Aimtec Insights
By registering, you agree to the processing of your personal data by Aimtec as described in the Privacy policy.
Related stories