Jan Stočes about aimtec.cloud: We Have a Lot More Responsibility Now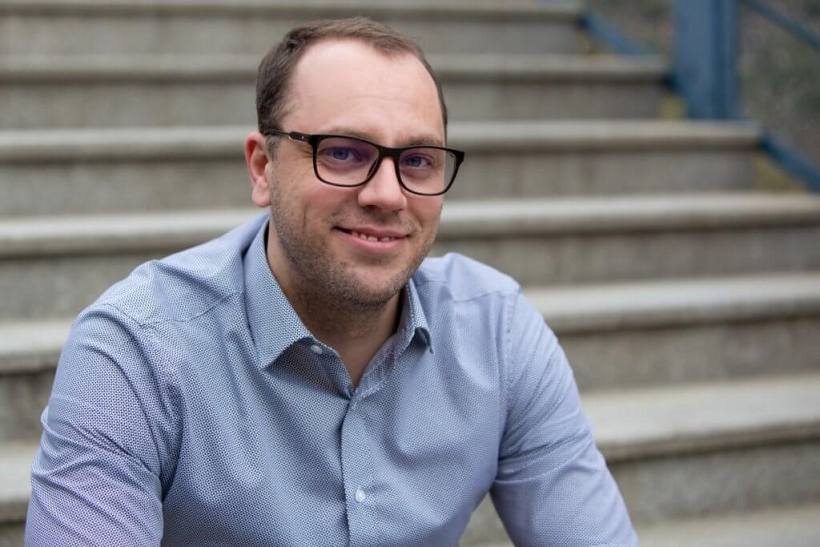 This April, we officially launched aimtec.cloud, a single platform incorporating all of Aimtec's cloud solutions. What led us to do it, where do we see cloud services' future, and how can manufacturing and logistics firms profit from SaaS? Aimtec's Cloud Services Director Jan Stočes has the answers.
Jan, you started out as the manager of Aimtec's ClouEDI product. So you were involved in cloud services right away. Is that true?
Yes. ClouEDI was the first cloud solution we offered. Six years ago, we successfully completed our first project providing EDI communication as a service. Because our main focus is on the automotive sector, special features specifically from this field were gradually added in: the Customer Portal and the Supplier Portal, ASN checks and more. But the cloud and SaaS are trending across all sectors, and the growing number of our customers from other sectors, such as chemical manufacturing and logistics, just confirms this.
---
Today companies are seeking practically all of their solutions "As a Service" – from EDI to WMS and even ERP
---
What was the reason for introducing cloud services?
We saw an opportunity for offering a simple, quick and high-quality solution. When we were starting out with ClouEDI, specialised services in the cloud were few and far between. Today companies are seeking practically all of their solutions "As a Service" – from EDI to WMS and even ERP. And that was one reason why we decided to introduce aimtec.cloud.
As we went about developing ClouEDI and new features, we found ourselves using the cloud for solutions addressing more than just EDI. Besides developing the portals you mentioned, we also, for example, developed scanner integration, a Yard Management System and more. So introducing MES and WMS as services was just a logical step and another stage in our products' development.
How long did it take until aimtec.cloud could be launched?
Starting from the final decision to jump into cloud WMS and MES as well, it was about half a year – but we definitely haven't reached the end. A team of people in all of our divisions is working on development, but it's possible in the future we'll dedicate these people to the cloud alone.
What are the pitfalls of providing SaaS?
Even though it might at first seem that a cloud service is only a copy of an on-premise solution, that's not the case. We had to change how we think and how we work. With SaaS, we're responsible for everything involved in application operations, updates and security. With an on-premise solution, the customer's IT department handles a large part of this. Also, it's just as easy for a customer to turn off a service as it is to turn it on. So client satisfaction plays a large role, as does the SLA, which tends to be stricter than for most "physical" solutions. Even though our partner Amazon Web Services – one of the largest IaaS providers – has our back, first contact is something we carry on our shoulders. And so the entire responsibility for the solutions' functionality is on us. As is the criticism when anything goes wrong. But the benefit of AWS is that it's a robust solution, minimising our risk of downtimes.
What, meanwhile, are the pitfalls for the customer?
Practically none. A few conservative firms might keep their distance from cloud services, but those are somewhat exceptions. With the cloud, manufacturers can acquire the solutions they're used to from on-premise, and also do it faster and without a large initial investment. They can also choose and assemble features however they need.
---
Companies no longer have to worry about infrastructure, installation, licences, or updates
---
So the benefits win out?
Definitely. All it takes to start up a cloud service is an internet connection. Companies no longer have to worry about infrastructure, installation, licences, updates etc. Likewise the initial investment is very small compared to on-premise solutions. In combination with the reliability and security that can be achieved today, SaaS is clearly the future, and not just a trendy term.
In what direction will cloud services for industry develop in the future?
I think the era of giant multifunctional monoliths is behind us. While the cloud is a real trend of course – as you can see, by the way, from SAP's planned transition to a cloud version exclusively – various microservices and modules that companies are acquiring for their ERP are a trend as well. More and more often, customers are reaching for the chance to assemble their own solutions from individual smaller systems, which they each purchase as a service, and then turn off when it's no longer needed. So we'll need to know how to integrate not only cloud solutions with on-premise systems, but also individual SaaS solutions among each other. The IoT, and processing data from it, will be another big topic, of course; the cloud is a major advantage there.
---
Jan Stočes, Cloud Services Director
Jan has focused on IT in manufacturing from the very start of his career; he has also worked as a consultant at CSC (named DXC Technology today). In 2016 he arrived at Aimtec to begin developing their first cloud service. Now that aimtec.cloud has entered the market, he's in charge of the strategic development of Aimtec's entire cloud portfolio. His free time is devoted to sports and his family. He'll gladly speak with you in English or German.
Share article
Top stories from logistics, production and IT.
Subscribe to Aimtec Insights
By registering, you agree to the processing of your personal data by Aimtec as described in the Privacy policy.
Get top stories and articles
from Logistics, Production and IT.
Subscribe to Aimtec Insights
By registering, you agree to the processing of your personal data by Aimtec as described in the Privacy policy.
Related stories