The First Step on the Road to Industry 4.0 at Daiho
The individual steps in digitalising your enterprise may seem demanding. And they do demand long preparation and thorough employee training. But all that effort pays off in the form of clearly defined processes and a record of production data and planning. Having a single system that is capable of integrating logistics, production and finances as well as financial controlling can thus greatly benefit your company. At DAIHO CZECH and DAIHO Schenk, they could tell you a lot about that. Both of these plants were anticipating the deployment of a new ERP system. And both of them decided for the combination of SappyCar + ClouEDI.
In the Czech Republic, DAIHO manufactures plastic pressed parts for use in industry. You can find products from the Liberec-based DAIHO Schenk factory – ashtrays and cup-holders – in cars made by Audi, BMW, VW and Mercedes. Meanwhile the DAIHO Czech plant in Pilsen mainly produces components for electronics and air conditioning. At both of these plants, they began to need a better way to monitor manufacturing information, plan purchases and control material flows. The Liberec plant was the first to see changes.
A Real-time Digital Image of the Liberec Plant
DAIHO Schenk was already using an ERP before they deployed SappyCar. But alongside it, they also had to use several other systems for monitoring stock levels, material flows and production. This was all demanding to operate, and it was especially demanding to ensure that the data was correct. Once implemented SappyCar, our pre-configured SAP ERP solution for the automotive industry, the DAIHO team had a complete tool for the automated management of material flows. That's given them a real-time overview of their stock statuses, so that they can plan their production and purchases better. They've likewise acquired a complete overview of their manufacturing's individual phases. Not to mention a record of data for traceability, which is absolutely fundamental for automotive. This project also included the activation of our EDI as a Service: ClouEDI. It guarantees error-free, automated communication with customers.
Zebra mobile terminals were integrated into the system, so as to make warehouse workers' jobs easier and to eliminate errors.
During the "go-live", Aimtec provided 24-hour support directly on-site.
The Liberec Template Travels to Pilsen
The use of the new system proved its worth at DAIHO Schenk, and the implementation process served as a template for DAIHO CZECH. The project's main motivations were to support enterprise processes, manage warehouse stocks, plan production and monitor production data such as total cost ratio. Introducing a new ERP and logistics process management inside of a factory is only the first phase in the overall digitalisation of production, and by taking this step, DAIHO has joined the ranks of the companies that are modernising their processes in the Industry 4.0 spirit.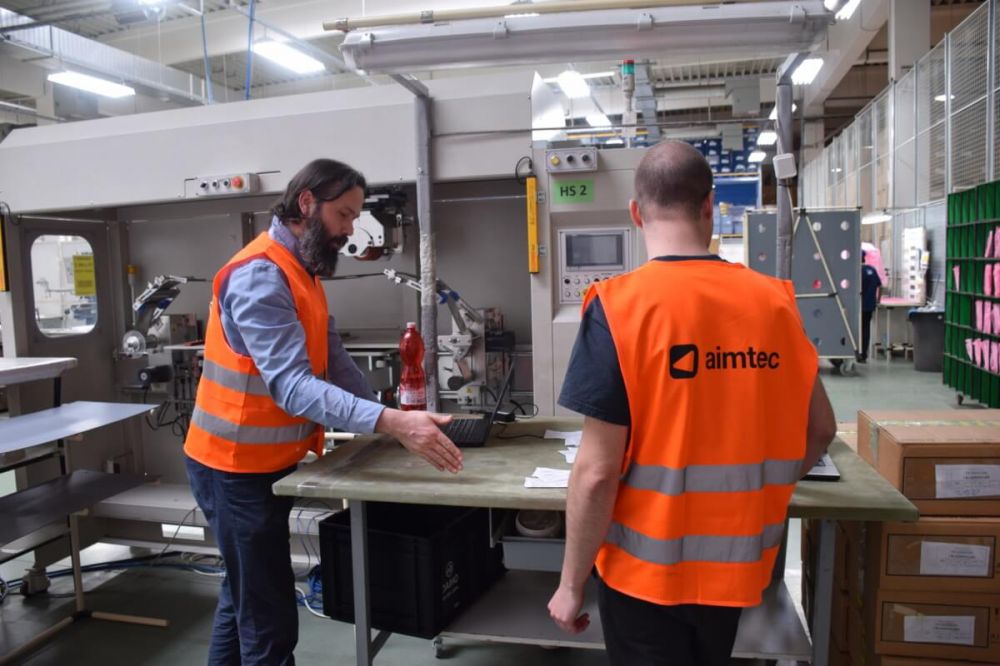 Aimtec team - SappyCar & ClouEDI implementation
Premium Support and System Adaptations
The Pilsen DAIHO CZECH plant mainly delivers to Daikin, an air-conditioning manufacturer. This client's special requirements had to be reflected in the system as well. We therefore extended SappyCar and SappyWMS – the warehouse management system – to ensure that product dispatching would run smoothly. One example of a process that we customised is picking into customer forklifts in a predefined sequence. DAIHO's clients also include Panasonic and Fehrer. ClouEDI handles their electronic data interchange for these as well.
In light of the complete change in how processes at the Pilsen plant work, DAIHO requested that we provide premium support during preparation and during the "go-live" itself. Even though the employees were trained in advance regarding how to work with the system and the new mobile terminals, the Aimtec team was available right at the factory 24 hours a day for the whole first week as well. Their presence during the system launch ensured that the transition occurred smoothly, with no negative impacts on production.
Prepared for Future Development
SappyCar now handles the collection of production data and the planning of production at the DAIHO Czech pressing line, paint shop and assembly sites from start to finish. Thus their directors have a non-stop overview of the current state of production and stocks – in short, a digital image of their factory. And the system is prepared for future development as well. Today it's collecting the data needed for quality control, so that tomorrow's controls can be more thorough. Likewise, adjustments are also anticipated for other processes that will push DAIHO into the next phase of automation.
Share article
Top stories from logistics, production and IT.
Subscribe to Aimtec Insights
By registering, you agree to the processing of your personal data by Aimtec as described in the Privacy policy.
Get top stories and articles
from Logistics, Production and IT.
Subscribe to Aimtec Insights
By registering, you agree to the processing of your personal data by Aimtec as described in the Privacy policy.
Related stories