New logistics management let Germany's RKT get a lead on its competition
Material handling costs, precise traceability, compliance with expiration dates. Every pharmaceutical company has to grapple with all this – including the German firm RKT. We had an opportunity to speak with RKT's Director of Supply Chain and Logistics Management Martin Hofstetter about how it dealt with not only a digital transformation of its warehouse logistics, but also an entirely new warehouse management method.
Martin, RKT supplies products for the health care and pharmaceutical sectors. A number of strict criteria must be met in these sectors. How does this affect internal logistics?
Fundamentally, as there are a number of special aspects and restrictions that need to be respected. These include things like the handling of biological reagents, which must be stored at a certain temperature and humidity. We have to provide for all these special conditions in all parts of the logistics chain, including storage. High demands apply to traceability too – we need a complete chain of information about batches from our suppliers, about our own production, about customer POs, about what material to use for a given customer batch. When our customer asks us to list the production batches and dates where a specific raw material batch was used – say, because it needs to be pulled off the market – we have to be able to trace shipments and respective handling units. Expiration checks are a similar case. reagents, raw materials etc. all come to us with a "expiration date" date. We have to check this date, verify that the expiration period suits our aims and accept or reject the goods based on that.

In 2020 you launched a fairly extensive optimisation of your intralogistics. What was the main impulse behind this project?
Our original aim was to implement lean logistics, putting us in line with the corporate standard. At the same time, a new business opportunity had opened up before us. We knew that in our current state, we wouldn't be able to meet the conditions of the new products we had acquired. Therefore, besides logistics digitalisation, the project we implemented also meant creating an entirely new transaction architecture and an entirely new warehouse logic.

What made the new project so special that it sparked a fundamental change to your warehouse management?
It was primarily about a new way of working with expensive materials that require special handling and storage. We work in a clean room environment with temperature-controlled and frozen materials. Under certain conditions the materials degrade very quickly, so our new SAP system constantly checks their usability. We simultaneously introduced multi-phase production supply – before some materials enter the assembly line, they must pass through a thawing process. Our new warehouse management system monitors all this information for us. The system is also connected to our production line, which only allows materials to be set up if they have the right properties.

Why couldn't you implement this project – which was so fundamental for a new project and a new client – on your own?
RKT didn't have its own SAP competency centre and the capability to do its own programming to implement the new processes and create the transactions necessary, back then. That's why we opted for external aid. Aimtec was the logical choice for an external partner, as we'd long been cooperating with them at other plants.

"As regards this project, it was important that Aimtec had the best knowledge of our SAP system's structure and also knew what changes would need to be made. We needed a swift and specific solution for this project, and that's why we chose specifically Aimtec as our partner. And it was a good choice. "
Martin Hofstetter, Project Manager, RKT
On the one hand you have big company projects, and on the other you have employees who need to adapt to them. But not everyone likes changes. What kinds of feedback are employees giving regarding these innovations?
I can say openly it wasn't easy to convince operators these changes made sense. Imagine you've been working with a system for ten years, and it suddenly fundamentally changes. Not only do you have to learn how to use it, but you may also have more requirements to fulfil. It was a process of about one year for the operators to understand all the benefits of the new way of working.

Did the Aimtec team help you to acquaint your staff with the new features and conditions?
Yes; the go-live phase took about one week, and an intensive support service was available for several further weeks. During the go-live, three Aimtec staff members were here, ready to help the new system's key users and guide them through the new features. But familiarising operators with the new system was our job. Naturally, we had a lot of preparation work before it launched, but as you know, training is never as hard as when you're out on your own with the training wheels off.

If you had to look back and evaluate your work on this project – where is, in your view, the partner's largest benefit?
In my view, the most valuable things were Aimtec's insight into our situation, its swift understanding of what we wanted and needed to achieve and also its ability to clearly explain what needed to be done and why. The consultants first compiled a list of requirements and then came with a specific solution proposal. I personally was surprised by how well the proposed solutions are working.

Learn more about the fruitful collaboration between RKT and Aimtec. >>Read the full case study.
---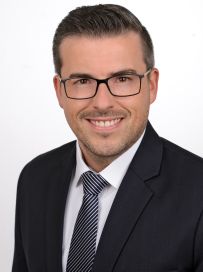 Who is Martin Hofstetter?
After graduating from his studies in Industrial Engineering and Management, he worked for one year at an American branch of Bosch. In 2013 he started to work as a project manager at RKT. Five years later, he entered Alfmeier's programme for future managers and spent two years at its Shanghai branch. Since 2020 he has served as Director of Supply Chain and Logistics Management at RKT.
---
Share article
Top stories from logistics, production and IT.
Subscribe to Aimtec Insights
By registering, you agree to the processing of your personal data by Aimtec as described in the Privacy policy.
Get top stories and articles
from Logistics, Production and IT.
Subscribe to Aimtec Insights
By registering, you agree to the processing of your personal data by Aimtec as described in the Privacy policy.
Related stories