How to standardise processes in the automotive industry without limiting its flexibility?
How does a global automotive player use Aimtec's DCIx System to standardise processes in its plants and facilities? Get an insight into International Automotive Components Group (IAC) straight from their European Vice President of IT and Systems Tolga Özkundakci. Tolga spoke at the TAL (Trends in Automotive Logistics) Conference in Pilsen in September 2021, with the main topic of his speech being the right balance between the tendency of global business to standardise and the need to be flexible to satisfy various customers' needs.
Globalisation taking over
Over the last 50 years, companies and industries have become increasingly international. While globalisation of businesses certainly brings many benefits, it also brings up a lot of issues. International companies operating in multiple countries have to deal with different cultures, languages, and approaches, not to mention legal requirements that might be very specific for different countries.
For a manufacturing company such as IAC, maintaining operational efficiency is the biggest challenge of globalisation. How to achieve operational excellence? Tolga Özkundakci thinks that digital transformation of plants and facilities is key.
To standardise or be flexible?
How to approach digital transformation? Numerous experts believe in standardisation and deem it critical for business and information processes as it reduces both variability and costs and brings out better quality and consistency.
On the other hand, other experts swear by flexibility, saying it's the only way to stay relevant, to satisfy varying customers' needs.
So, should you choose standardisation over flexibility or the other way round? There's no universal answer to that. You need to find the ideal balance between the two and choose the best approach after meticulously assessing and analysing your needs—is it flexibility within your organisation, or does the need for standardised operations prevail?
The main goal of a standardised ERP system is for all European IAC's facilities to speak the same language, although not literally of course.
What is IAC's approach to standardisation?
Tolga mentioned that one of the biggest challenges for IAC at the moment is to build and implement a standardised ERP system for the entire group. IAC currently operates on 9 different ERP systems for 20 facilities across Europe—that's clearly not sustainable. Therefore, IAC's main focus for 2022 is to implement a standardised ERP system in Europe as they have already managed to do in North America, Africa and Asia. Practice makes perfect: It used to take 18 months to implement a new ERP system in one plant; it only takes 3-4 months now. Quite an evolution!
The main goal of a standardised ERP system is for all European IAC's facilities to speak the same language, although not literally of course—all plants will be using the same tools and modules which will make it easier for them to cooperate with each other and processes will become much more efficient.
But standardisation does not end with a unified ERP system. And when it comes to operational processes, the need for customisation increases. That's where Aimtec´s DCIx with various warehouse management and manufacturing execution system tools comes into play.
Building a standardised IT infrastructure—with the help of AIMTEC
To standardise its IT systems across Europe, IAC opted for a combination of QAD system and Aimtec´s DCIx system to balance global standardisation with operational flexibility. QAD system provides the standard ERP solution while Aimtec´s DCIx covers the needs for customisation of processes in manufacturing and logistics.
IAC chose Aimtec due to previous successful cooperation—IAC's relationship with Aimtec dates back to 2015 when IAC built their plant in Přeštice village (near Pilsen where Aimtec is located). IAC's plant in Přeštice was one of the most complex manufacturing systems at that time and nowadays, it uses a combination of DCIx's system modules—MES, JIS, JIT and WMS. Aimtec also helps with Advanced planning and scheduling with Asprova deployment.
The right balance of flexibility and standardisation
To make the two systems work in sync, IAC built a set of various standard interfaces that vary in order to be able to work for different plants and facilities. When deploying the global QAD + DCIx duo, the implementing team picks the most fitting interface for the specific plant or facility. By doing so, IAC doesn't have to sacrifice flexibility for standardisation's sake. Which is something no one should do, according to Tolga Özkundakci.
Are you interested in details? Watch the entire presentation here:
---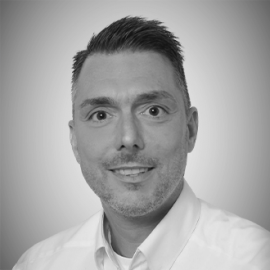 Tolga Özkundakci has been the European Vice President of IT and Systems of IAC for over 3 years. IAC (International Automotive Components) Group is one of the global leading automotive suppliers for automotive systems and components. It operates 57 locations in 17 countries and currently employs more than 18000 people. IAC's yearly revenue is over 4 billion USD, with 49% of business commercial sales mix coming from Europe. IAC supplies components to Ford, Daimler, General Motors or Volvo. The main focus of IAC is currently SUV and CUV vehicles.
---
Share article
Top stories from logistics, production and IT.
Subscribe to Aimtec Insights
By registering, you agree to the processing of your personal data by Aimtec as described in the Privacy policy.
Get top stories and articles
from Logistics, Production and IT.
Subscribe to Aimtec Insights
By registering, you agree to the processing of your personal data by Aimtec as described in the Privacy policy.
Related stories