Three real‑world examples of how to configure the system for controlling logistics and production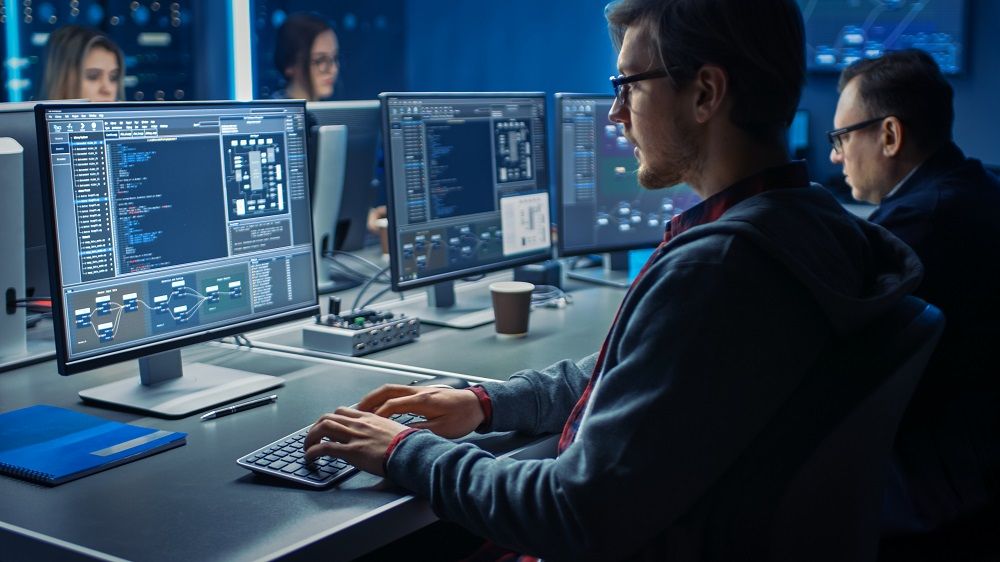 Today, when the demands on businesses and how they work are changing nearly non-stop, it is essential to be able to react quickly and gain control immediately even in tough situations. And so it is no surprise that custom configurability is also a fundamental matter for WMS, MES and APS, among other logistics and control systems. The trend is clear – customers seek a system where their hands and minds are free to create their own transactions and processes and shape their system's future development. But is this truly possible?
Read the stories of three Aimtec customers that have already set out on this path and decided they want to better understand DCIx and begin customising it "on their own feet". How much effort did it cost?

DENSO: Reconfiguring processes while reconstructing the materials warehouse was trouble-free
The Liberec plant of Japanese manufacturers DENSO produces 13,000 air conditioning units a day. It stood before a tough task: a requirement for a new emergency process for Toyota products that would have over 100 modules – from reading in transport to generating customer labels to making final checks. But this plant had an ace up its sleeve: it had been using DCIx since 2006, and Aimtec had carefully trained its team for preparing transactions. And so nothing threw the DENSO team off course, not even the task of reconstructing the materials warehouse, which took only four days – including adapting the floors for VNA forklifts. This lightning-fast and utterly fundamental change affected processes and their configurations as well. And thus DENSO and Aimtec split up the new flow of materials. While Aimtec covered the automatic ordering process in the direction from picking positions to the warehouse, DENSO's team handled the other reconfigurations itself. The transformation birthed nineteen new transactions, three new print forms and five reports. Entirely on the customer side.
DCIx lets users:
Edit existing processes and create entirely new ones
Work faster thanks to knowing the system's possibilities
Save time by skipping the submission of changes to the system supplier
We prepare all our transactions so that a user just needs master data editing rights, and they can configure changes. There's no need to dig into the transaction directly.
David Svoboda, Logistics Supervisor, DENSO

CWJ24: We managed nearly 150 customisations in three years
At this Brno cosmetics distribution centre for the Czech Republic, Slovakia and Hungary, they began using DCIx five years ago, just after abandoning a self-developed solution. That's one reason why, for this warehouse with three thousand pallet points, customisation for needs was very important. CWJ24's internal developers jumped into customising the system in several areas, from the waiting-orders dashboard to worker performance to monitoring picking-position replenishment. And so they notched up over 150 customisations in three years.
Their CEO Jan Martinec sees the simplification of communication with managers outside the warehouse as one of the biggest benefits. "We need to explain how we work to merchants who don't understand our warehouse. The dashboard graphically displaying our load level and planned orders solved this for us". This major assistance was also reflected in capacity planning, because CWJ24 also always organises their temp-worker counts based on how many items are expected to be removed from storage. Additionally, their performance can be monitored in real time, and the system colour-highlights any time fluctuations. No matter whether it's a chatty packer or a technical problem, it needs to be resolved immediately.
If you want to dive into your own DCIx edits, you need an IT professional with at least a bachelor's degree, or someone who knows MS SQL, JavaScript, CSS and HTML. Aimtec trained our developers as a part of deployment, and so we could start with our edits straight away.
Jan Martinec, CEO at CWJ24

Skladon: We want to be an implementer with internal know-how who knows how to react
Even though this company – which is capable of completely outsourcing logistics for e-commerce firms – has only been using DCIx for just under two years, it's among the system's most advanced users. In fact, Skladon, one of the fastest-growing Czech companies, "leapt into" the cloud right when launching the system. Despite this, Skladon is already using a DCIx API to connect to their e-shop as well as to their ERP client. As a result, the company can release items from storage the very same day a shipping order request is accepted. "After fifteen months of using DCIx, we're at a point where 95% of our new transactions are created by our internal team, which has our further DCIx development fully under its control as well. In my view, that is a strategic approach," explains Konstantin Margaretis, Skladon's founder and CEO.
The internal team is not there to babysit the servers. You'll find experts on real-world business cases who know the details of all processes and how to optimise them. In light of the quickly changing e-commerce environment, Skladon needs to be able to react immediately. In many areas – such as processes. "After the Aimtec training, our DCIx specialist was able to build new transactions just two months into the job. Aimtec is mostly a mentor; we are the implementer," adds Margaretis. As one example of the results: a single transaction change enabled by a process reassessment brought Skladon a 40% time savings in order processing. And its internal team deployed it in three days.
For me as the firm's owner, Aimtec is a partner – but also a laboratory for new logistics technologies. Internally I just need a small, flexible team, and the rest of my team is in Pilsen – it's named Aimtec.
Konstantin Margaretis, Skladon founder and CEO
Share article
Top stories from logistics, production and IT.
Subscribe to Aimtec Insights
By registering, you agree to the processing of your personal data by Aimtec as described in the Privacy policy.
Get top stories and articles
from Logistics, Production and IT.
Subscribe to Aimtec Insights
By registering, you agree to the processing of your personal data by Aimtec as described in the Privacy policy.
Related stories