Automation in Logistics – From Hardware to Artificial Intelligence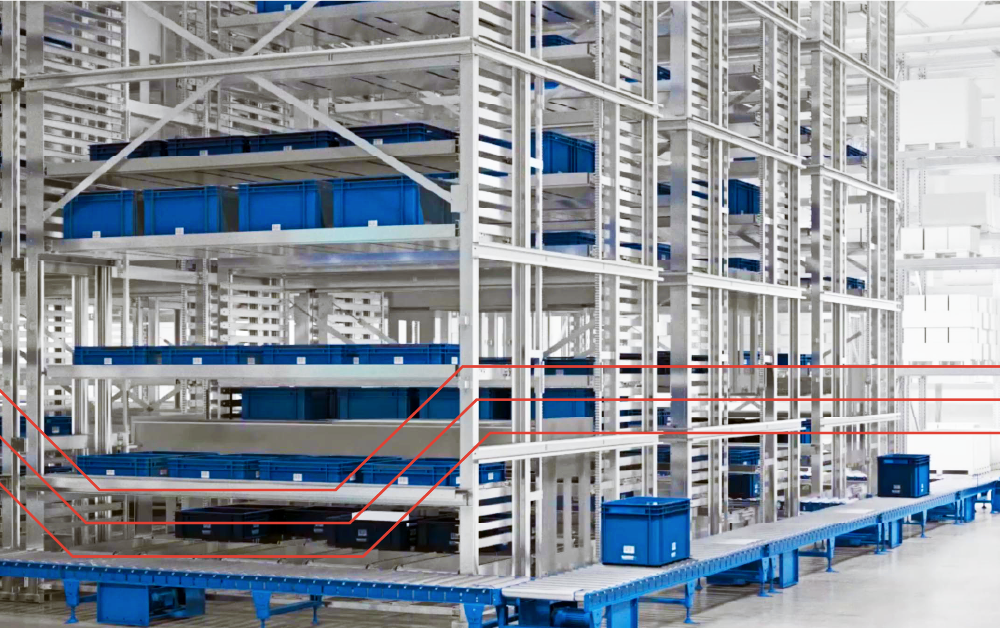 Intralogistics and warehouse automation were once again among the main topics at this year's TAL conference. And Czech technology start-up VertiFlex, which was one of the main partners for the entire event, focuses on precisely these areas. VertiFlex is active on eight markets in Central and Eastern Europe, to which it supplies automated vertical stackers for warehousing from Swedish manufacturer Weland Solutions boosted with its own VertiNode AI software, which makes use of the possibilities offered by artificial intelligence. In our interview with their managing partner Bohumil Tejnický, we spoke on the development of automation in intralogistics.
At the TAL conference, the automation solutions of Swedish company Weland Solutions were presented to the audience by its CEO, Björn Karlsson. Why has a Czech logistics start-up chosen precisely this vertical-stacker manufacturer for a partnership?
Weland's Compact technologies are unique thanks to their two-story extractor, which can accelerate picking significantly. Meanwhile another of their models, the Double, offers the option of stacking two racks atop each other, thereby greatly increasing warehouse capacity while only minimally increasing floor space.
---
Watch Björn Karlsson, CEO of Weland Solutions, speak at the Trends in Automotive Logistics (TAL) 2021 conference.
---
Is logistics automation just about choosing the right hardware?
Hardware is important, of course, but it's a work tool that merely follows the instructions of its operators. Most manufacturers of automation technologies also perceive software as just a supplement to their own technology. Our approach is the exact opposite. We don't make software to suit a machine. We've developed our own software that's compatible with machines from any manufacturer. Naturally, it's no problem to connect it to a WMS (Warehouse Management System), which then controls the follow-on processes and technologies at the warehouse.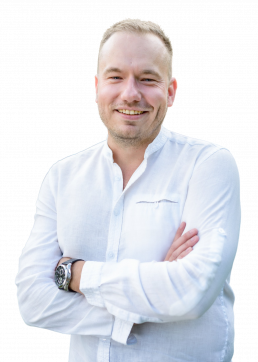 From our standpoint, hardware, software and consulting are one whole – which we also make available as a service. So there's no need to acquire a vertical stacker only as a capital expenditure.
Bohumil Tejnický, Managing Partner, VertiFlex
Your Vertinode Ai software uses artificial intelligence and machine learning. What does that mean?
Vertinode Ai contains a set of artificial intelligence features that help automated warehouses to work better. Traditional software offers features such as order grouping, the use of pick-to-light technology, multi-operator solutions and basic optimisations to stackers' trips so that they are used more effectively. The software also stores historical data that can be used for manual analyses to set up process optimisation. VertiNode Ai goes much further than this. Our software makes use of acquired data to offer powerful defragmentation of the materials in the stacker so that the most heavily used items are located as close as possible to the picking hole. These operations are performed by the stacker either automatically or upon direct command during non-shift hours, e.g. at night.
Could you give a specific, scenario-based example of how the system works?
The software is capable of planning out materials' locations within individual stackers, for example, in case one of the machines breaks down, or to make one type of materials available in multiple machines. It can thus ensure faster access to materials for multiple operators and therefore faster order preparation as well. The artificial intelligence also offers automatic ABC analysis and can thus determine which items are picked the most quickly or frequently, and which the most slowly or infrequently. So it can help to optimise goods' locations and propose optimal placements of goods for effective preparation of individual orders. The artificial intelligence organises orders working from a selection of which orders are the fastest to pick, based on how materials are stored.
---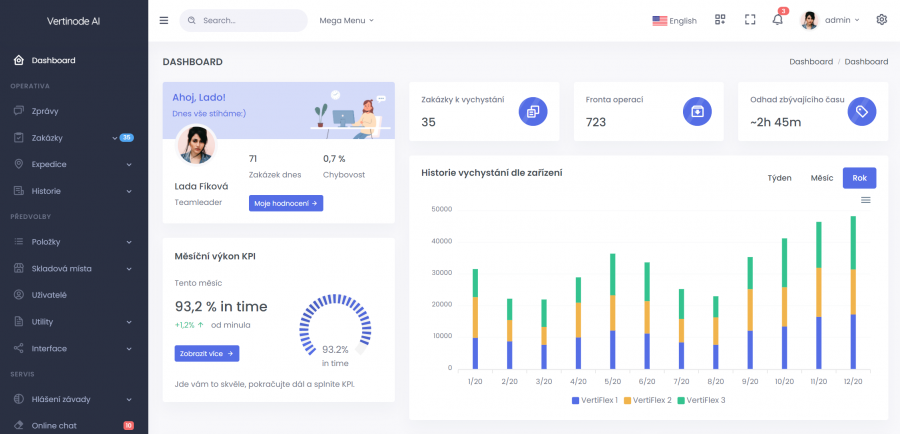 ---
Predictive analysis is often associated with artificial intelligence as well. Is that also a part of your systems?
Based on historical data, we are able to create a predictive estimate of an order's completion time even before picking has begun. Thanks to VertiNode Ai, we can prepare racks with appropriate goods even before the start of an order's picking. Machine learning based on historical data enables "pre-picking," i.e. the process of taking goods or materials out of storage when we can assume, based on the operations history, that they will be needed. Balancing of the workloads across machines during picking is possible thanks to expected-workload information and targeted distribution of materials among machines. Artificial intelligence also brings a number of verification mechanisms for minimising errors and mistakes during the picking of goods, e.g. a check of picked items' weight, even if the weight of the materials is not previously known, and a location check based on video analysis including automatic identification of the operator.
To truly harness the potential that VertiNode Ai offers, one needs to work with historical data and statistics from warehouse operations and from the work of operators and machines. In-depth analysis – which cannot be performed manually – can, for example, reveal the upcoming need for servicing based on a machine's long-term performance. Based on historical data it is also possible to estimate the amount of work needed and the time capacities necessary for picking the expected volume of orders.
And if a customer desires to move towards full automation?
One solution for a greater degree of automation is Compact Dynamic, which is based on the tried-and-true technology of Compact stackers, but with the use of an innovative robotic technology enabling efficient materials handling with a high degree of reliability. Dynamic is a fully automated solution that handles plastic boxes containing goods and delivers them using a conveyor system straight to humans. Thanks to its structural design, Compact Dynamic is very flexible. It is built into modules and sections that are adapted in their width, depth and height so as to optimally fit within defined spaces. The height can be up to 20 meters, which is entirely unique on the market. One advantage of Compact Dynamic is that removing one module, e.g. due to servicing, does not limit the operation of the entire system. Storage can also be adjusted or variably combined based on the customer's needs and requirements.
Share article
Top stories from logistics, production and IT.
Subscribe to Aimtec Insights
By registering, you agree to the processing of your personal data by Aimtec as described in the Privacy policy.
Get top stories and articles
from Logistics, Production and IT.
Subscribe to Aimtec Insights
By registering, you agree to the processing of your personal data by Aimtec as described in the Privacy policy.
Related stories