The Trends in Automotive Logistics Conference 2023: Take a Backstage Look at the Digital Factory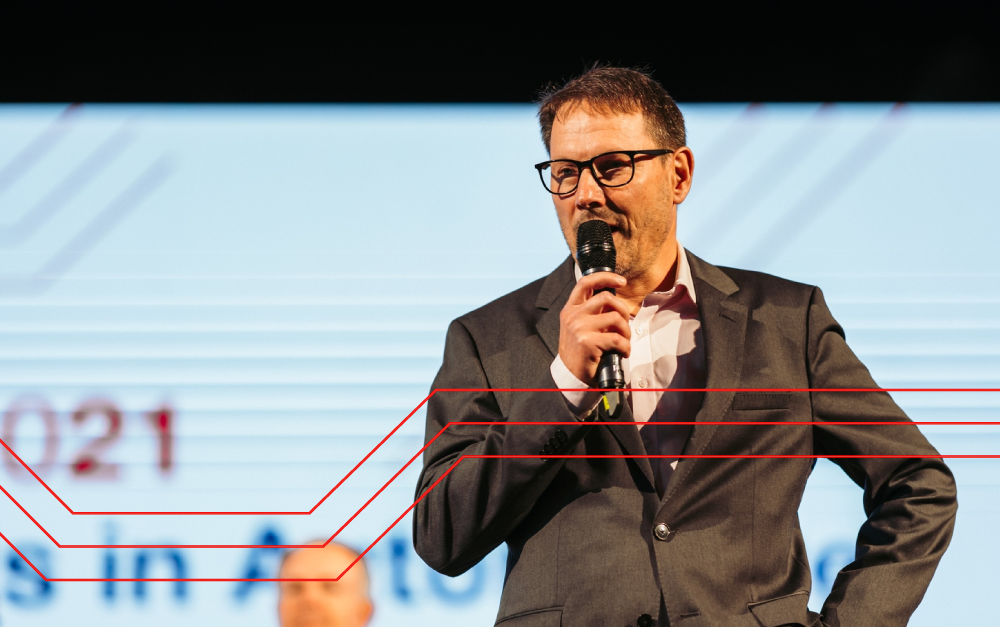 Despite all the current crises, digitalisation is running full steam – for manufacturing firms, the digital transformation is not just a possibility, but rather a necessity if they are to remain competitive. Anyone asleep at the wheel today may face a severe handicap in five to ten years, says Aimtec's co-founder and supervisory board chairman Roman Žák. He also extends a cordial invitation to this year's TAL conference, dedicated to digitalisation and other trends in automotive logistics.
Roman, how do you see the ideal Digital Factory?
In my view, the ideal Digital Factory is a plant whose top management can optimally use both the potential of the latest digitalisation and automation technologies and the endless potential of people.

Is it at all possible to view digitalisation as a project that has a beginning and an end? Can you ever say "OK, done?"
I'd say not. This is a long-term, or rather endless process of transformation – just as the business environment itself is constantly developing. Naturally, digitalisation is made up of individual steps, but ultimately it's about creating the right platform configuration, which a company can then build upon. It's important that a firm be capable of building up internal digital competencies. Above all through its management, so that digitalisation becomes a part of the company culture. The resulting development then helps that company to adapt to the market, and thus to compete successfully as well.



What would you say is the most important thing needed for a company's digital transformation to succeed?
I like to say that it's a holistic approach to the matter. An understanding of the context, built upon knowledge of the systems in combination with an understanding of business, automation technologies, project management, motivating people and many other disciplines. This enables agile leadership of further development and a focus on the right priorities and thus "supplying" useful solutions. Also, looking from the opposite angle, the majority of isolated automation or digitalisation "islands" have significantly smaller benefits than a solution that is thoughtfully integrated into the whole.

The 22nd TAL conference is coming up soon and is tempting attendees with the subtitle "Behind the Scenes at the Digital Factory". Why the backstage theme?
We try to let conference participants see the whole realm of automotive logistics in a completely new light. To unveil, through our speakers, what is actually happening "behind the curtain" – not just in logistics and IT, but also for example in terms of people and their role in digitalisation. We want to bring the best and most useful contributions and presentations, the kind that make participants think about how they will digitalise at their own companies. We want to help people by sharing experience, showing them what works, covering the essentials, the successes and failures… and never skimming the surface.

TAL's attendance is constantly rising. Why are both local logisticians and top European managers so eager to visit this conference in Pilsen?
TAL is organised by us here at Aimtec, in cooperation with IHK Regensburg and the German-Czech Chamber of Industry and Commerce. This conference has never aimed to make a profit. Since its beginnings, TAL has had a single purpose – to bring participants current logistics trends, with the highest possible quality of form and content. Over the years it's become clear that this works. We choose the most interesting and valuable contributions; there are no ads, even partner ads; nobody's selling things onstage.

"For the managers of companies in this field, TAL is also useful in terms of networking, in connection with its relaxed, friendly atmosphere. We want the conference participants to bring home pleasant memories and emotions, as well as useful experience and new contacts."
Roman Žák, co-founder and supervisory board chairman, Aimtec
What speakers are you looking forward to the most?
This year the programme is so bountiful that it's hard to choose. I think Czech participants will definitely be interested in Škoda Auto's Head of Logistics David Strnad. Perhaps the biggest name after him is Klaus Straub, who served until 2020 as CIO and Senior Vice President of Group IT at BMW Group. Currently he's sharing his know-how and enormous overview of the dynamically changing world of digitalisation. Sustainability is a major topic, and Cyril Klepek's contribution will certainly be exciting; he's the man behind the outstanding Cyrkl project. Cyril will share his story of how IT can truly meaningfully contribute to sustainability. But that really is just a few of the names, and there's also time set aside for new technologies and case studies; BRANO and Scherdel will be presenting their automation projects.

In view of what's happened in the past few years, what important things can be expected from the IT standpoint in automotive in 2023?
I predict that the role and importance of digitalisation will continue to strengthen, in spite of the fact that this truly is a difficult period for many companies. But I'm also convinced that precisely in these tough times, the difference between those who have truly accepted digitalisation as part of their strategy and those who have not will begin to manifest more clearly.

Share article
Top stories from logistics, production and IT.
Subscribe to Aimtec Insights
By registering, you agree to the processing of your personal data by Aimtec as described in the Privacy policy.
Get top stories and articles
from Logistics, Production and IT.
Subscribe to Aimtec Insights
By registering, you agree to the processing of your personal data by Aimtec as described in the Privacy policy.
Related stories