Get the Data You Need for Industry 4.0 with IO‑Link Communication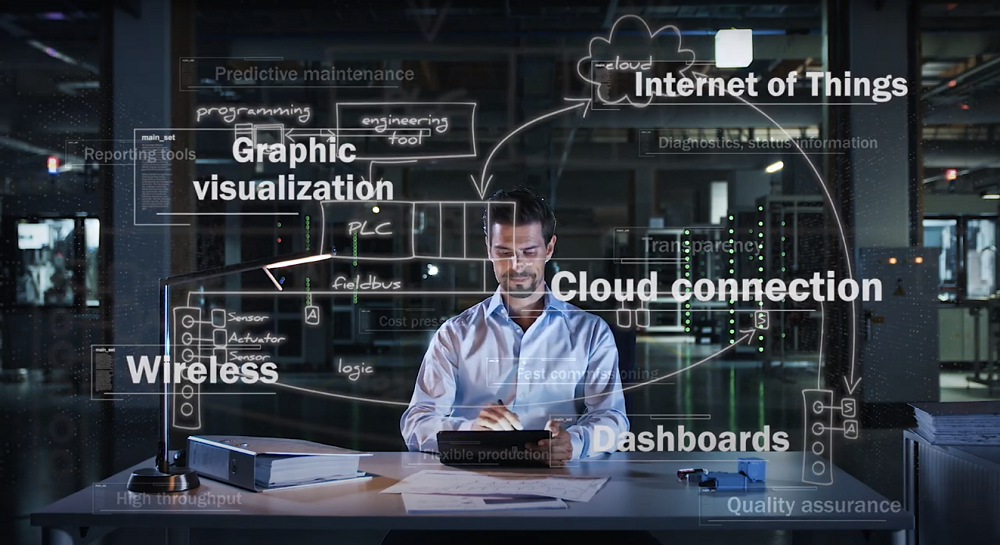 The Covid-19 viral pandemic is affecting both human health and the global economy. The restrictions on movements of persons, above all, have revealed certain weaknesses in manufacturing and supply systems across different fields. Even before this global crisis broke out, automation and industrial robotisation – jointly known as Industry 4.0 – were of growing importance. So it is very likely that pressure for automation of manufacturing and logistics will increase in further areas even after the crisis ends.
When people hear the term "Industry 4.0", only rarely can they physically imagine what it includes in practice. On the other hand, smart-home devices are already in everyday use within most of our households. No matter whether that means a thermostat controllable via a phone app or, say, LED mood lights.
In a smart factory with Industry 4.0 built into it, instead of home appliances communicating with us, it's machines. And not just with us, as users, administrators, or industrial designers. They can also communicate together and pass each other information about a currently measured value, a need to fill up materials, or a malfunction.
So ideally, a machine that, for example, moulds metal parts can order a refill of its metal-sheet feeder in advance. The sheets can be transported in by an Automated Guided Vehicle (AGV) that has in turn loaded these materials from an automated warehouse. Everything is digitalised, and so the logistics system has received timely information on the thinning stocks and ordered materials replenishment automatically.
This removes the human factor; no operators are needed for the machines, and human intervention is only needed during maintenance or repairs. This saves costs for companies, but also – and this is perhaps more important – they have manufacturing and logistics processes fully under control and can gradually optimise their production.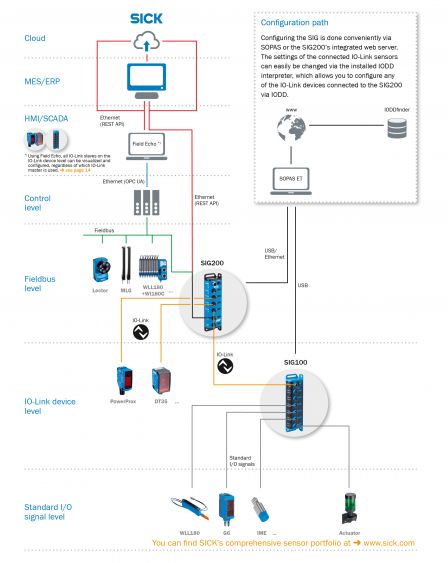 Smart Sensors. Source: SICK
Information is the cornerstone
To successfully integrate the concepts behind Industry 4.0, it is essential to obtain information from as many elements within the entire manufacturing and logistics process as possible. This information must be constantly assessed and adapted to the current demand, supplier capabilities, production input material deliveries and more. Companies that implement all this as well as possible will have a future competitive advantage. They'll be able to flexibly respond during any future crises and adapt their manufacturing to the demand levels and possibilities that arise.
So it can be assumed there will be increasing pressure for diversification of raw materials suppliers to spread out the risk of any supply cuts. After all, among the concepts in Industry 4.0 you'll also find an emphasis on flexible warehousing. In a smart factory, machines send precise information on the amounts of materials needed for producing a given manufacturing batch. Thus factories only order as many materials as they actually need.
IO-Link enables communication right down to the last metre
A backbone fieldbus network such as Profinet or Profibus communicates effectively at large distances. However, it is hard to integrate such a network into end devices like the sensors and actuators with which a machine has been fitted. This problem can be resolved using IO-Link Communication, which is customised for communication in the last few metres.
IO-Link makes it possible to acquire information from individual devices easily, and the devices can in turn pass this information onward using a fieldbus or e.g. wireless communication. One great advantage of IO-Link is its independence, because it is used by manufacturers throughout the area of industrial automation. IO-Link is even free of licensing charges.
The beauty of IO-Link also lies in the fact that no extra communication lines are needed for data transfer. Each IO-Link device is hooked in to a so-called "IO-Link master" via an ordinary, standardised industrial cable.
We can use the same cabling that is already commonly used for power supply and the transfer of binary signals in manufacturing today to obtain a large amount of further information. The sensors can even directly communicate among each other or via a logic system created within the IO-Link master. Thanks to easy identification, a defective sensor in a machine can be localised quickly. New units do not need to be manually configured, because their settings are downloaded automatically over IO-Link based on the original sensor's settings. This eliminates the risk that someone will incorrectly configure replaced equipment, with impacts on the whole machine's functioning. This reduces manufacturing downtimes as well as the need for detailed knowledge of a machine's functioning.
---
IO-Link is a point-to-point communications protocol. It functions as two-way communication enabling us to both read the data from equipment and upload it remotely. Up to four types of transfers can be used in total; the first two are sent repeatedly and automatically by equipment, and the last two on request only.
Process data – cyclic data from equipment on the last known state (for example a measured value)
Value status – cyclic data on the validity of process data values
Device data – acyclic data such as sensor parameters and diagnostic information.
Events – acyclic data, for example error messages during malfunctions
---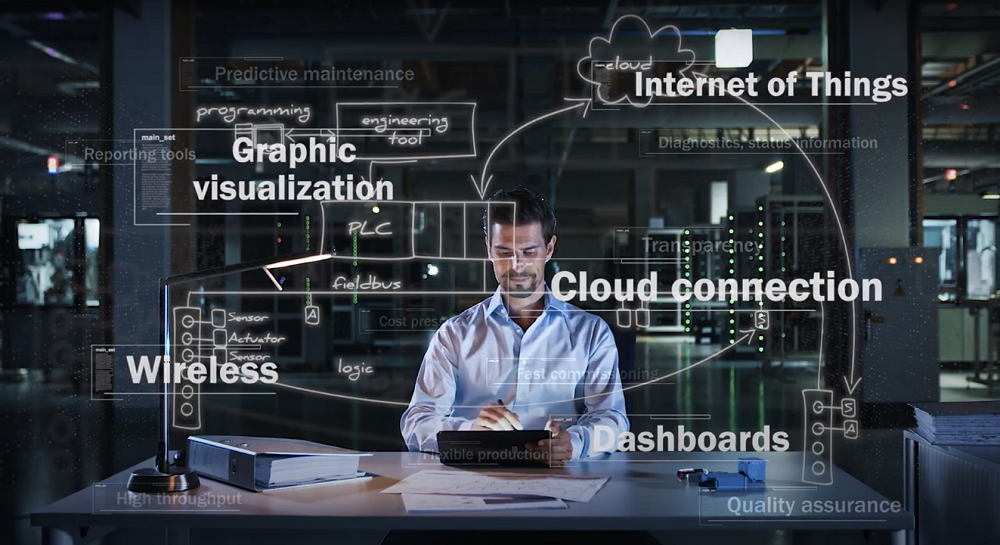 Data digitalisation and visualisation
The sheer quantity of data that we can acquire from individual devices opens up new possibilities for us all in terms of further data processing. The IO-Link master to which the individual devices are connected can not only communicate with the PLC as before, but also transfer data from individual devices into the cloud with the aid of the REST API.
Remote access, parametrisation and data transfer are provided by FieldEcho – software developed by a company named SICK to meet the needs of Industry 4.0. FieldEcho gives the user a clear (and manufacturer-independent) overview of all their IO-Link equipment throughout their factory and lets them easily acquire the needed data from that equipment and send it to, for example, their corporate ERP system. Besides data acquisition, individual devices can also be remotely parametrised, eliminating the need for maintenance workers' physical presence at a machine or a manufacturing line. Thus they can obtain an overview of lines at multiple factories in different parts of the world from a single spot.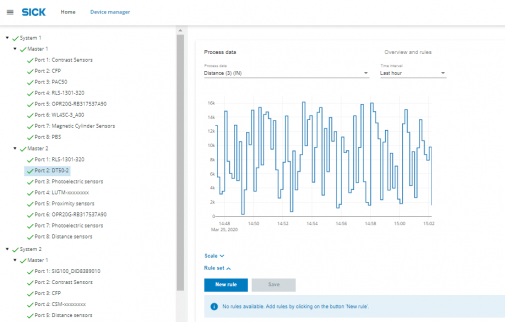 Data visualisation with FieldEcho. Source: SICK
To learn more about the capabilities of IO-Link and FieldEcho, visit SICK's website or contact our team. We'll be pleased to propose a bespoke solution with Industry 4.0 parameters.
Share article
Top stories from logistics, production and IT.
Subscribe to Aimtec Insights
By registering, you agree to the processing of your personal data by Aimtec as described in the Privacy policy.
Get top stories and articles
from Logistics, Production and IT.
Subscribe to Aimtec Insights
By registering, you agree to the processing of your personal data by Aimtec as described in the Privacy policy.
Related stories