Optimising material flows thanks to smart automation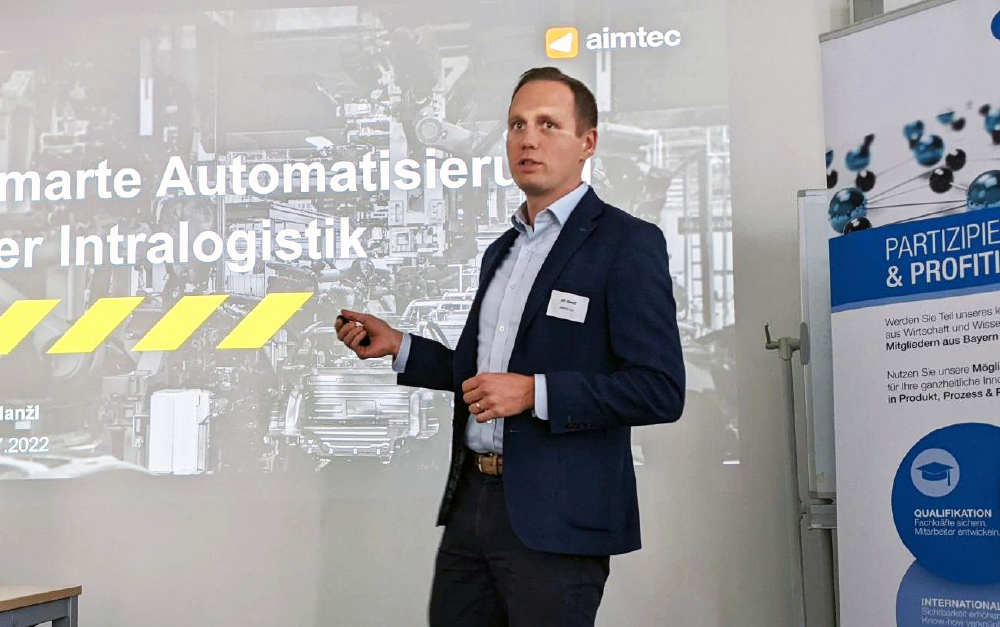 This July, experts in manufacturer material flow and value chain optimisation met up in Nuremberg, Germany under the leadership of the Bayern Innovativ business networking organisation to discuss things together and share best practices. The individual presentations offered up specific technologies and verified approaches when implementing innovations. Sales Manager Jiří Hanžl joined the event to present Aimtec's experience in this area through a presentation on smart logistics automation.
Why this topic in particular? "Automation is an effective tool for intralogistics process optimisation. Wherever there's a shortage of people, or people aren't adding value, or their work needs to be precise and flawless, automation is the right way to help logistics to cover rising demands for capacity and performance," he explained, continuing: "This solution is scalable and available even at plants that don't currently have the opportunity to build an entirely new warehouse or production hall. Even just engaging semi-automatic technologies or automating only a part of a warehouse's processes can bring excellent results."
Lean automation and integration into SAP ERP
In his talk, Jiří presented the example of Fehrer, a company whose internal logistics team stood before the difficult task of covering a 40% increase in required warehouse capacity with only a one-tenth growth in warehouse space. "A task like this would have been insurmountable with their previous method of organising and operating the warehouse. By making warehouse space utilisation more efficient and integrating a semi-automatic VNA, we achieved the required storage location count. A thorough analysis of the material flow enabled us to understand its complexity and design the individual processes correctly. One great challenge for us was interconnecting the technologies and the information system into a single functional whole," Jiří noted, adding: "Thanks to our Sappy solution, which was an extension to their existing SAP ERP, all automation technologies could be integrated directly into ERP without any need for added in-between elements."
What does that mean? All the processes are controlled from one environment, and all the data is likewise in one place. This brings a number of benefits – primarily the high long-term maintainability of such a solution.
---

---
Ensuring that automation succeeds
By suitably integrating automation elements into logistics processes, Fehrer met a major logistics challenge and adapted to needs that grew naturally along with the plant. But how can you ensure your automation project is successful too? Jiří covered this topic in his presentation as well. "Automation projects are demanding in terms of capacity on both the supplier and customer sides. There's always the need to find a project leader capable of raising enthusiasm for the project both among management and among a strong implementation team. There's a need here to work with data, and if the data isn't there, then it first needs to be patiently acquired, and only then can the outputs be planned. Last but not least, there's the need to choose an experienced technology partner and to always keep in mind that automation is about more than just robots, lifting systems and autonomous vehicles. You need to find an integrator who can ensure your whole warehouse forms a single, well-functioning system," said Jiří in conclusion.
---
How should you approach automation at your company?
Discuss your options for launching an automation project, or pick out the right technology.
>> Arrange a non-binding consultation with an Aimtec expert.

Vít Glasl
---
Share article
Top stories from logistics, production and IT.
Subscribe to Aimtec Insights
By registering, you agree to the processing of your personal data by Aimtec as described in the Privacy policy.
Get top stories and articles
from Logistics, Production and IT.
Subscribe to Aimtec Insights
By registering, you agree to the processing of your personal data by Aimtec as described in the Privacy policy.
Related stories