Fiori – a Facelift to SAP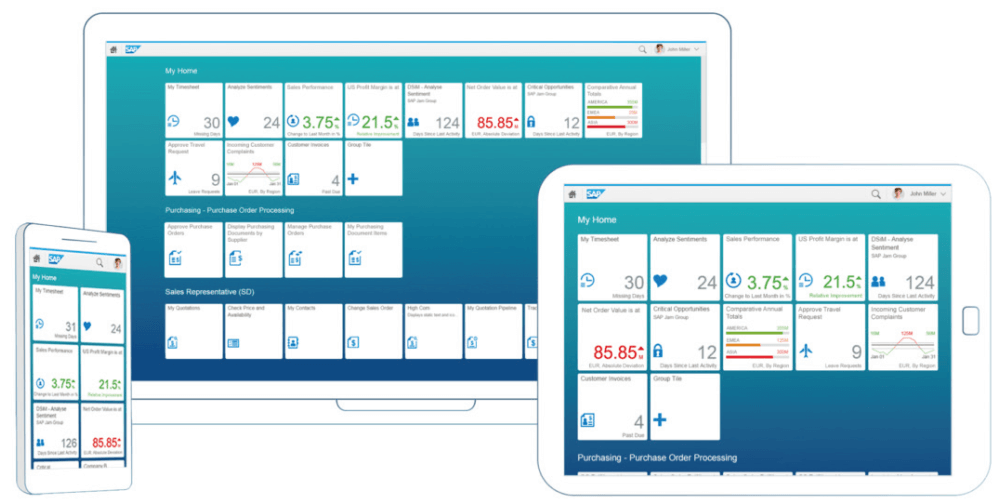 As one of the top players in ERP systems, SAP is well aware that an intuitive interface is an integral part of every modern software tool and helps to maximise work efficiency. Several years ago its developers decided to give its interface a facelift; the company then went on to publish SAP Fiori. Even though this application has been around since 2013, it has only begun to receive increased attention recently, with the entry of SAP S/4HANA, where Fiori is the only interface supported.
SAP Fiori is the front end for all of the modules within SAP ERP, i.e. the rules for how individual applications should look. Thus for the very first time in its history, SAP is issuing recommendations to developers on how they should write their add-ons and other applications from the standpoint of a unified user interface. Thanks to this, the SAP work environment is unified, more convenient for users, and easier to use. To name two examples: toolbar locations (e.g. how to confirm a transaction and how to return to the previous screen) have been unified, and the environment now offers more complex elements – graphs and maps – within applications.
SAP Fiori is distinctive for its simple, minimalist look and its use of tiles, which are clearer for users. Every SAP Fiori user can also set their own views – an option they are accustomed to from other software. Another major advantage for Fiori lies in the option of filtering applications based on user functions. After logging in over the web interface, you only see the modules that you are authorised to use, and you also don't have to go looking for them. We are thus seeing a gradual end to the days when by far the most efficient approach for users was to remember their top 20 transaction abbreviations. Things are also simplified by the fact that standard transactions' screens can themselves be simplified, by hiding selected fields or renaming them, to maximize convenience of use.
S4/HANA Mobile
The Fiori client lets users access SAP applications via their mobile devices without the need for special versions of these applications. This brings with it not only reduced development costs, but also enormous flexibility for users. Managers can now monitor overviews or approve requests from practically anywhere. Yet the use of mobile versions is also attractive for e.g. workers in the maintenance or quality departments, who can perform their measurements conveniently on a tablet with full support from the on-line SAP system. This too is one reason why SAP ERP's new S4/HANA generation is another step forward in digitalisation and in making many companies' work easier.
Fiori's Application Types
Fiori differentiates three basic types of applications: transactional, analytical and fact sheets. As the name implies, a transactional application is the equivalent of transactions as you know them from traditional SAP – e.g. receipt of materials, invoice creation, handling purchase orders, etc. Analytical applications, meanwhile, visualise various overviews and provide source documents for analysis and reporting. Most importantly, they perform these steps in real time thanks to the strength of the S/4 concept in tandem with the HANA database. Fact sheets, meanwhile, are a combination of the previous methods, and they offer a comprehensive overview of related processes and enable deeper analysis and prediction, primarily for financial indicators.
Support for Custom KPIs
The possibility of modelling and monitoring custom KPIs is invaluable for the daily work of everyone in finance, manufacturing and purchasing. SAP Fiori makes it easier to create the needed models and offers every user the opportunity to monitor custom indicators such as production volumes, defect rates, supply volumes and overdue invoices.
When the user is setting up new KPIs, the interface leads them through all of the needed steps, and it even provides multiple assessment options, including display via graphs, timelines and percentages of completion.
Share article
Top stories from logistics, production and IT.
Subscribe to Aimtec Insights
By registering, you agree to the processing of your personal data by Aimtec as described in the Privacy policy.
Get top stories and articles
from Logistics, Production and IT.
Subscribe to Aimtec Insights
By registering, you agree to the processing of your personal data by Aimtec as described in the Privacy policy.
Related stories