Data. Data. And more data! How can you master it and ensure it's clear and on time?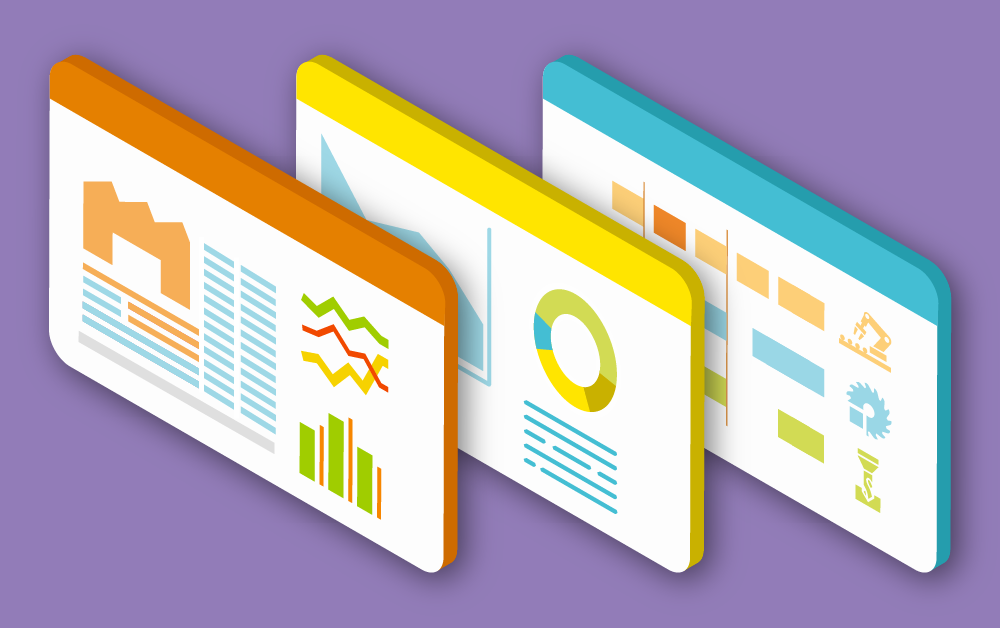 In manufacturing and logistics, you're faced with mountains of data, and you need to master those mountains. It would be a shame not to use them. But how should you work with them and display them to ensure that they're truly of value and that you can make good and informed decisions? How can you gain the information you need in just a few clicks – and in an an easily navigable form? Get to know the different types of reports that can help you.
The options out there for reporting solutions and for the forms they can have are numerous – from the simplest to the more sophisticated. Aimtec Sales Manager Daniel Vopelka has this to say about them: "More and more often we're seeing our customers facing a fundamental need to collect, display and evaluate large amounts of data. We see data as the future. That's why we're constantly following the trends and adding new possibilities for report creation and new display possibilities with a single goal: 'I click, I see, I understand.' I can mention 3D data visualisations here as an example."
The Built-in Report – A source of quick data for operations
Built-in Reports in DCIx show your operations people the real-world data that is critical for their activities at a given moment. They are a fundamental tool providing the user with a simple overview of logistics and production. They're usually used by shopfloor staff, such as warehousemen, foremen and shift leaders. The data inside them is shown with up-to-the-minute updates. These reports are used in situations where there is a need to show operational data straight from the database, i.e. data about what is happening right now and what will be happening in ten minutes. They also enable a view of the past – up to one week back.
"One example of a basic report is an output on an HMI display served by an operator – they enter data, e.g. the number of units produced or the quantity of scrap, and confirmation of the action performed. The static report is used by, say, a manager or a shift leader; this might be monitoring of how dispatching is going or an overview of individual machines' activities and performance," says Aimtec's Developer Manager Jiří Tuma. They also find uses in Just-in-sequence zones. Everything can also be displayed on portable devices, for example tablets or mobile phones. The advantage of these reports is that they are directly connected to the production database, and they are up-to-the-minute. However, to avoid overburdening production, reports can only show the data, without complicated aggregations.
The Real-time Report – Increases logistics performance by dozens of percent
Real-time Reports are designed for situations where there are high demands on the swift updating of data. They show changes to data in real time and in swift succession – even fractions of a second. These reports run on an Ignition server and are easily accessible from anywhere via a web browser. This tool is used strictly for viewing, for example for capturing data from machines. This is monitoring that workers can use for making relevant decisions. The Real-time Report is useful for anyone who needs to see and check how things are or how they're changing "right this instant". Its advantage lies in the ability to transfer data over the OPC protocol, which is the standard for communication with various types of devices.
The Ignition solution includes recommended software, named Ignition Designer, in which report designs are created.
"The ease of configuration enables customers to create reports on their own once we've trained them."
Jiří Tuma, Developer Manager, Aimtec
One advantage of Real-time Reports is the way in which data changes are transferred. Each displayed report automatically receives information from the server about a new value the moment it is changed, regardless of what device is watching that value. The report then updates only the portion that has changed, leaving the rest the same. Data is thus displayed very smoothly.
A data warehouse serves for analysis
Analytical data reports, displayed using Microsoft's Power BI, serve for strategic decisions. These reports are primarily a tool for managers and analysts, who need to view data comprehensively. Such data can be historical, enabling the user to monitor development or trends. A PC screen is most often used for displaying them; the reports are presented in the form of graphs or KPI. "Some examples here might be a trend for performance in production, a machine's scrap rate, or say logistics order processing time, worker efficiency or unfinished-task counts. A data warehouse tends to be the source of the data for these reports," explains Daniel Vopelka.
Since this involves large quantities of data, loading that data from the production database would work poorly, because it would cause unwanted slowdowns of the application – and thus also production and logistics. Therefore the data is copied to a data warehouse, where it is processed further and separated into various schemas. Every schema corresponds to one analysed functional area.
Large enterprises with several manufacturing plants will appreciate the fact that the data warehouse can even handle a data flow from multiple DCIx systems, thanks to the ETL tool, which copies data from the production databases to the data warehouse. The reports then provide management with access to all these branches, giving it a holistic overview. The data warehouse makes it possible to combine reported data from DCIx in the internal infrastructure with data from DCIx running in the cloud and subsequently display it in a Power BI report. Multiple solution scenarios exist, depending on where the data warehouse is stored and whether report accessibility should be internal only, or from anywhere via a web interface.
Digital Twins visualise enormous amounts of data
One very modern tool for displaying enormous amounts of data from a data warehouse in 3D and in real time is the Digital Twin. Its visualisation enables faster checking of data and processes. A Digital Twin helps in logistics with warehouse operator training, ABC analysis, heat maps, task visualisation and more. But it is not just a reporting tool; it can also be used for simulations, where it serves for displaying the potential scenarios for individual warehouse tasks. Digital Twins can also be integrated with RTLS (Real Time Location System) technologies.
Share article
Top stories from logistics, production and IT.
Subscribe to Aimtec Insights
By registering, you agree to the processing of your personal data by Aimtec as described in the Privacy policy.
Get top stories and articles
from Logistics, Production and IT.
Subscribe to Aimtec Insights
By registering, you agree to the processing of your personal data by Aimtec as described in the Privacy policy.
Related stories