The Future of Automotive Industry: Will Electric Motors Replace the Combustion Engines?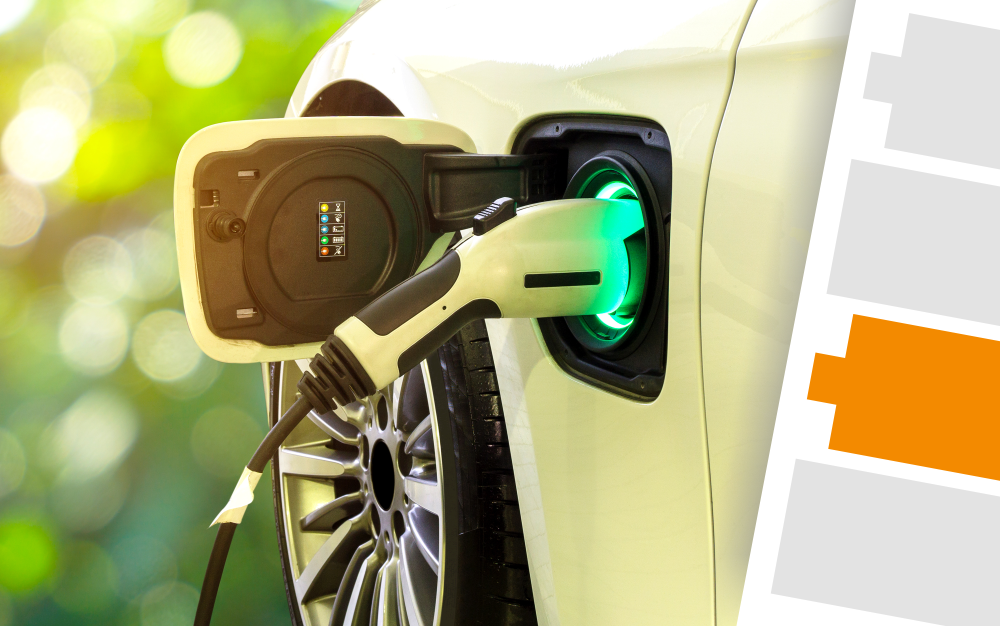 After over a century of using combustion engines as the main system of propulsion in passenger cars, this type of engine is slowly being curbed in favour of electric motors. The world is expecting that electric cars will skyrocket… Or is it? Why? What sort of impact may e-mobility have on Europe's automotive industry? Which unanswered questions regarding e-mobility remain on the table? We try to answer these questions in our series, starting with this article.
Regulations of CO2 Emissions
Based on the 2015 Paris climate agreement, European Union member countries agreed in October 2018 that CO2 emissions from new passenger cars must be 37.5 percent lower by 2030 compared to 2021. The European Parliament approved this limit in March 2019.
For 2015 through 2020, average fleet-wide emissions must not exceed 130 g of CO2/km (however, CO2 emissions in 2017 averaged 118.5 g/km). From 2021 this limit will be strengthened to 95 g of CO2/km. Car manufacturers must escalate their efforts to meet this limit and avoid paying high penalties. Starting in 2019 there is a €95 fine for each car and each gram of CO2 released above this limit.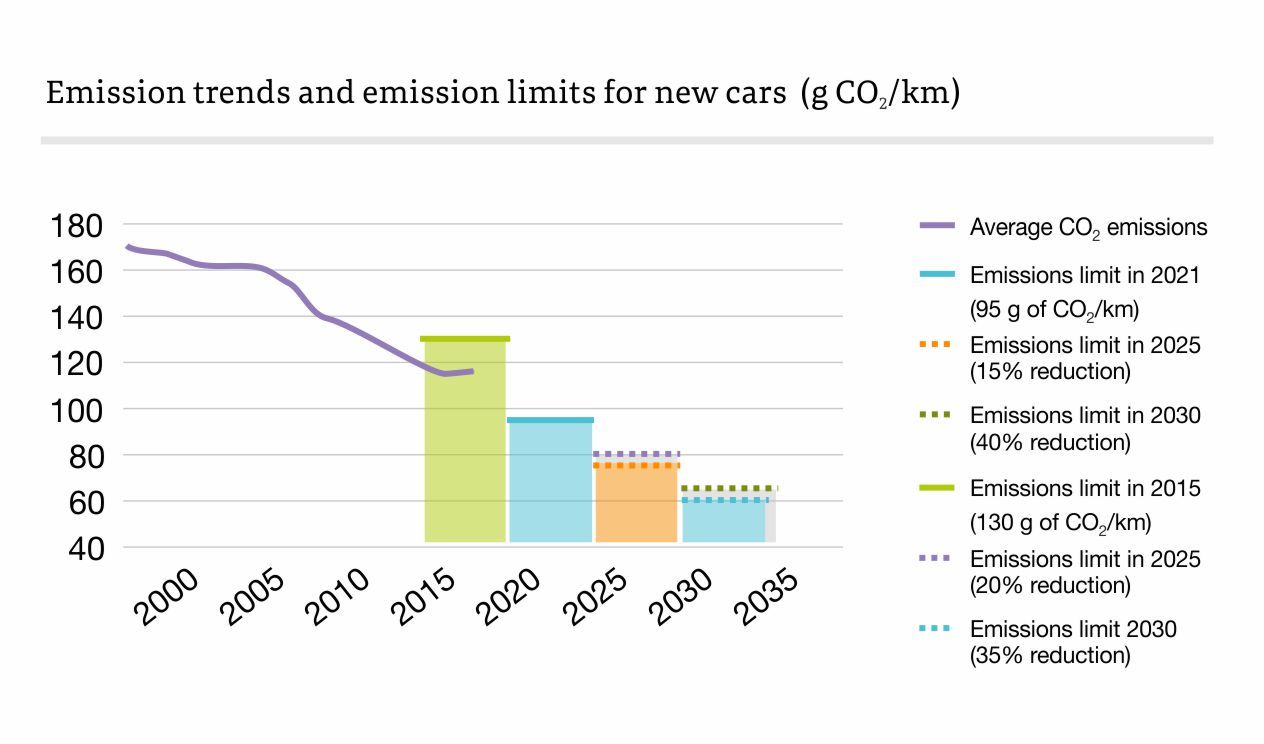 Source: ACEA, European Parliament, Council of Europe.
For car makers it is practically impossible to achieve the goal of reducing CO2 emissions by solely selling vehicles with low-emission combustion engines. The logic behind calculating fleet consumption only considers CO2 generated by operating the vehicle ("tank-to-wheel") and does not include CO2 generated during the production of the vehicle or fuel. As a result, these limits can be observed only by selling electric cars.
Local governments and municipalities are also starting to put the skids on combustion engines. As part of its battle to reduce emissions in central parts of the city, Paris is planning on prohibiting diesel cars from entering the city centre by 2024; the ban will extend to petrol cars in 2030. London is taking similar steps, and a decision by the Federal Administrative Court in Germany must also be noted: German cities have the right to restrict the entry of older diesel cars. Large cities in China are enacting similar regulations, with restrictions on registering number plates for cars with combustion engines and grants towards purchases of electric cars.
Owning a car with a combustion engine is starting to become quite a luxury – at least in larger cities.
Manufacturing of Batteries for E-cars
The proliferation of battery electric vehicles (BEVs) in recent years has been primarily fuelled by falling prices for lithium-ion (Li-ion) batteries. In 2018 the average price for a Li-ion battery was US$176/kWh, down 85% compared to 2010. Moreover, the energy density of Li-ion cells has been increasing by 5–7% annually. What's more, Bloomberg forecasts that the price of a battery will drop to US$87/kWh by 2025 and just US$62/kWh by 2030 (down 51% and 65%, respectively, compared to 2018). Batteries currently account for an estimated 33% of BEV production costs; in 2025, this figure is forecast to be only 20%.

The availability of the rare metals used to produce these batteries – particularly cobalt – has been a hot topic. More than two thirds of cobalt are mined in the poor and unstable Democratic Republic of Congo, often in dire circumstances and with the use of child labour. According to analyst Paul Gait from Bernstein Research, 125% of the world's cobalt reserves, 350% of the world's nickel reserves and the majority of copper reserves would be needed to replace all cars running on combustion engines. Car manufacturers are therefore working together with battery producers to create more advanced technology, namely solid-state batteries, which require less cobalt. It is forecast that the technology could become available commercially in around 2025.
When it comes to car battery production, the location of battery pack manufacturing facilities (gigafactories) is also important. Asia plays a critical role in this regard. According to Benchmark Mineral Intelligence, more than 80% of the world's battery production capacity is currently in Asia, with China holding a 61% share of production. Roughly nine percent is located in Europe, and this number is forecast to rise to 19% within the next decade. For the sake of comparison: in 2018 one in every three cars were manufactured in China.
An important and as yet unanswered question is where battery-powered electric cars will be manufactured in the future.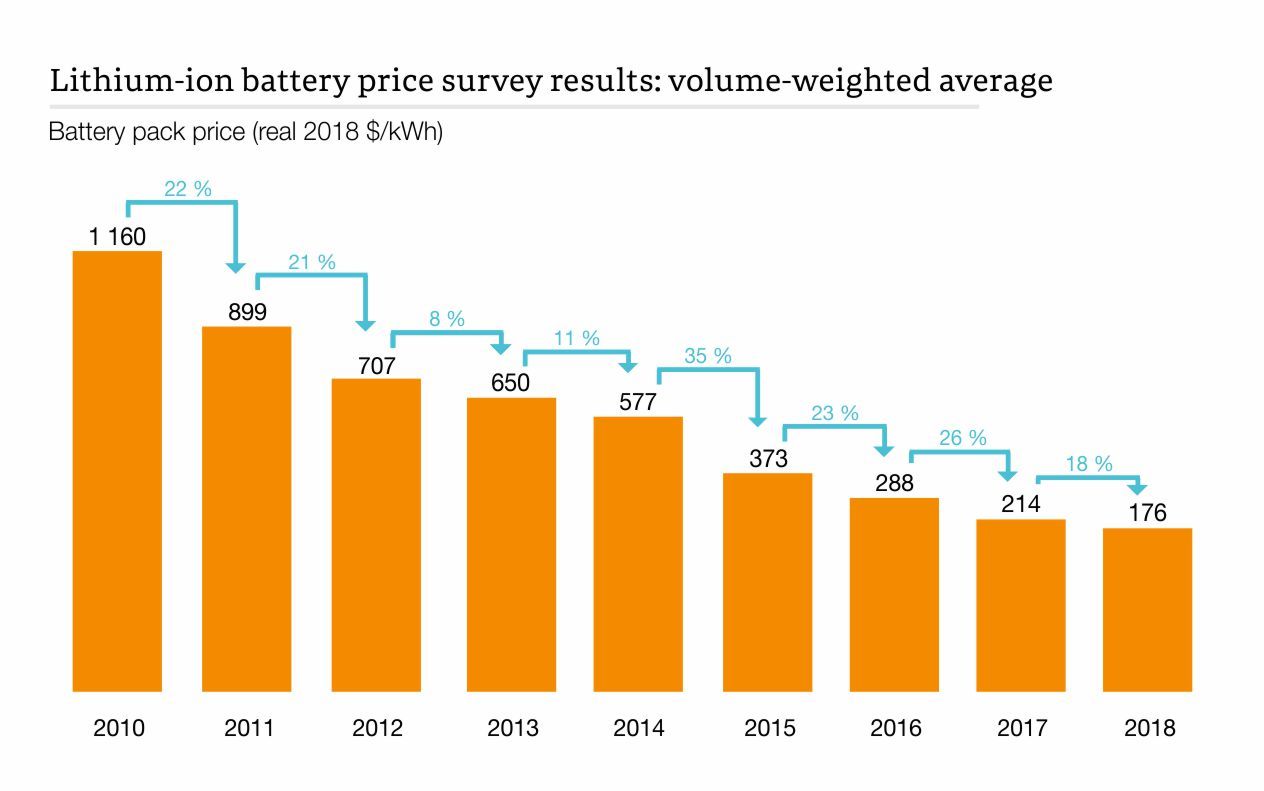 Source: BloombergNEF.
Share article
Top stories from logistics, production and IT.
Subscribe to Aimtec Insights
By registering, you agree to the processing of your personal data by Aimtec as described in the Privacy policy.
Get top stories and articles
from Logistics, Production and IT.
Subscribe to Aimtec Insights
By registering, you agree to the processing of your personal data by Aimtec as described in the Privacy policy.
Related stories