Warehouse automation has become the key to competitive advantage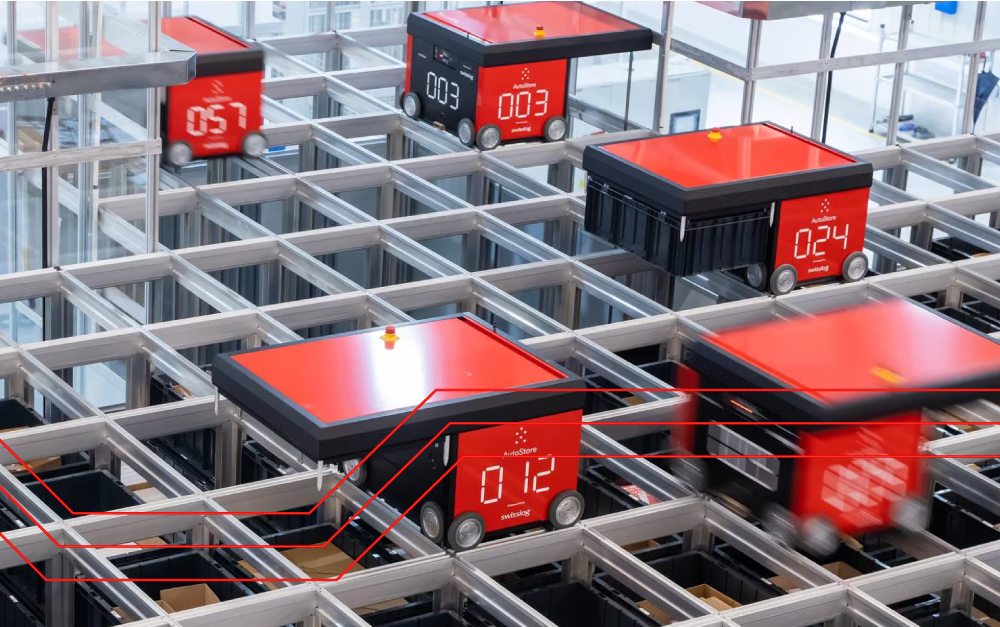 Swisslog, one of our main partners at the Trends in Automotive Logistics (TAL) 2023 Conference, is a leading provider of automation solutions for warehouses and distribution centers. In today's fast-paced business landscape, speed of fulfillment has become a critical factor for success. Customers expect goods to be available and delivered quickly, and businesses that cannot meet these demands risk losing customers to their competitors. In this article, Swisslog share their insights into the importance of flexible automation in today's fast-changing logistics landscape.
With the rise of e-commerce and other trends, businesses need agile and adaptable systems that can handle high volumes of orders and a variety of products. And the automotive industry is no exception when it comes to the importance of flexible automation in the logistics landscape. Flexible automation plays a crucial role in the automotive industry by enabling manufacturers to streamline their operations, improve productivity, and meet the evolving demands of the market.
In light of the current cost of living crises, as well as the energy crisis and disruptions in the automotive supply chain, the availability and swift fulfillment of goods can hold greater significance for customers than price alone. The ability to adapt and respond flexibly is increasingly becoming the norm and can serve as a crucial determining factor. If you can't deliver it by tomorrow, a couple of clicks away maybe your competitor can.
Warehouse automation offers huge potential to increase the efficiency of logistics while allowing the enterprise to be more flexible and responsive to ever fasting changing demand.
For brands, manufacturers and retailers to capitalize on this future growth potential, they have to deliver on customer expectations today. Yet periods of higher demand have stressed many fulfillment operations and made that more difficult, particularly for companies that haven't yet automated or are still relying on rigid mechanized systems.
This has increased the urgency around automating fulfillment operations. However, organizations considering automation today face the challenges of implementing new technology during a period of high demand and some economic uncertainty. They need to ensure the systems they deploy can adapt to whatever the future holds, while they also need to be able to move quickly enough to begin realizing the benefits of automation as soon as possible. Now more than ever, automation must deliver flexibility and short deployment times.
The Evolution of Warehouse Automation
Concerns about flexibility have been addressed through the current generation of robotic and data-driven goods-to-person automation solutions. Unlike the rigid mechanized automation systems of the past, robotic automation systems like AutoStore provide the flexibility and scalability to meet changing demand while continuing to compress order cycle and delivery times. They deliver an ROI that is typically half that of mechanized automation systems and reduce the risk of obsolescence by being able to adapt to changes in demand, fulfillment processes and the products being supported.
With the AutoStore storage and picking system, for example, you can add more robots at any time to support higher throughputs. You can also add more pick stations as demand grows or expand the modular storage cube to support more SKUs. The system also has built-in intelligence that allows them to evolve as new technologies emerge, enabling integration of promising technologies such as robotic item picking and AI.
---

---
Standardization Speeds Deployment
While mechanical systems could take years to plan and deploy, a customized robotic automation system can be deployed in 12-14 months, delivering a much faster return on investment and a longer useful life due to their ability to adapt to change.
But, just as with e-commerce delivery times, what seemed fast just a few years ago is no longer fast enough today. That's why the next evolution in warehouse automation technology is focused on increased standardization to further reduce deployment times without compromising functionality. This is enabled by the combination of software maturity and the experience gained over years of implementations.
System design and software customization can add months to automation system implementations. As more automation systems are deployed, the need for customization is diminished. Many software capabilities that would have been considered "custom" several years ago are now integrated as standard features of Swisslog's SynQ platform.
The experience gained over more than 370 AutoStore implementations has allowed Swisslog to develop standard hardware configurations that meet the needs of the majority of applications. Swisslog have reached the stage of maturity where standardization is practical and delivers significant benefits.
Swisslog is offering standardized configurations of AutoStore solutions that can go from contract completion to go-live in as little as six months. Standardized configurations are available based on throughput requirements, for example:
A 400 order lines per hour configuration

A 1,000 order lines per hour configuration

A 2,000 order lines per hour configuration
Higher performance levels are available with a little engineering by Swisslog's team of consultants, who have the experience of over 370 systems behind them.
While these systems feature a high degree of standardization, they provide the flexibility to tailor the number of robots, ports, racks and bins to specific application requirements. And, of course, both standardized and custom configurations have the ability to scale as needs change.
"At Swisslog, we believe increased standardization represents the future of warehouse automation as it enables faster deployment times and shorter ROIs," says Magdalena Choquet, Sales Manager Swisslog AutoStore for Eastern Europe.
Share article
Top stories from logistics, production and IT.
Subscribe to Aimtec Insights
By registering, you agree to the processing of your personal data by Aimtec as described in the Privacy policy.
Get top stories and articles
from Logistics, Production and IT.
Subscribe to Aimtec Insights
By registering, you agree to the processing of your personal data by Aimtec as described in the Privacy policy.
Related stories