"We Originally Just Wanted to Improve Our Processes, but in the End We Automated Our Whole Warehouse,"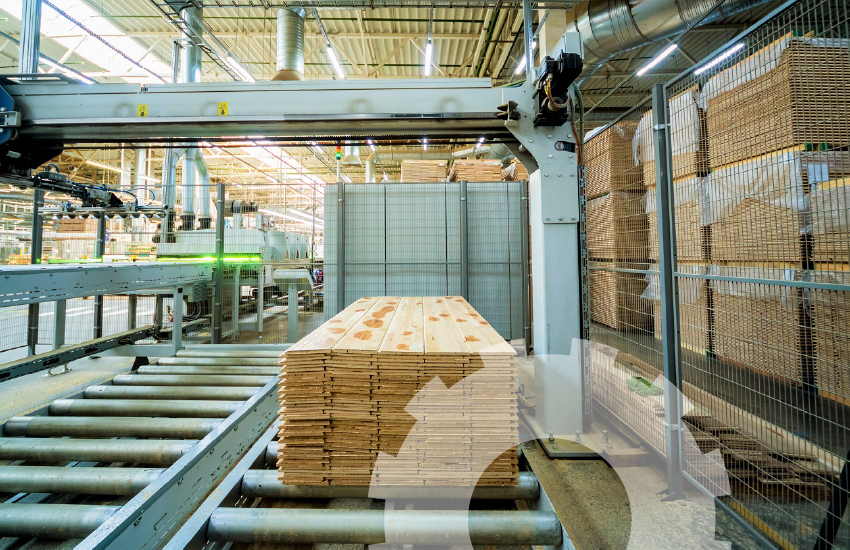 states Libor Toman from the board of directors of DŘEVO TRUST, a.s. He answered our questions just weeks after the start of live operation for their fully automated warehouse – that is, in a very special phase of the project. Mr. Toman captained the new warehouse's investment project, and therefore we asked him about his experience and the path leading up to the automation.
When did you start thinking about automation; what was the motivation?
Roughly ten years ago, we started thinking about some kind of automation for our handling of flat materials. We even had a project prepared for it, but we ultimately didn't execute it, because we couldn't be certain it would be technically functional. Back then the project was a suspended crane handling boards with an average mass of 80 kg and dimensions of 3 x 2 m.
We had to solve the issue that no single supplier could provide us with the technologies.
How did you arrive at your current solution?
As our product portfolio grew, we needed to increase our warehousing spaces for the regions. However, in practice our existing warehouses only see about 40% utilisation, which is something we wished to improve. The remaining 60% of the warehouse space is taken up by aisles and handling areas. So we sought a solution that would let us shrink the aisles. Our rack supplier had an affiliate that provides stackers and battery-powered forklifts. Working from this reference, we were able to narrow our aisles and utilise 65 to 70% of our warehouse spaces.
We rode to Germany for a look, and we saw battery-powered forklifts, manual picking and forklift-assisted picking, which, however, still used manual handling for materials of our type. Ultimately during a company discussion on what direction to take, we chose an automated warehouse.
We utilised a stacker in automatic mode, and we also took an extra step and added vacuum lifters so as to make the majority of the process automated. We had to solve the issue that no single supplier could provide us with the technologies, forcing us to arrange two suppliers – one for the racks and stackers, and another for the vacuum lifters and the handling of input/output materials.
What's happening now at Lipník nad Bečvou is the result of many discussions over the course of about three years.
Who came up with the automation idea?
Initially, we were seeking a means for handling our materials; this took about a year. Only in connection with new information did the possibilities for beginning to automate our processes start to take shape. What's happening now at Lipník nad Bečvou is the result of many discussions over the course of about three years.
We worked on the size, the weight and the breadth of the portfolio, the storage and handling method. We're not doing anything other companies don't do. The problem is that the size and weight of our materials are atypical, in a range that nobody automates. Handling is normally done with pallets, and there are lots of solutions for those. We have a package that weighs two tonnes and has dimensions of 2 x 3 m, and that's something nobody covers with their automated solution. At least, we didn't manage to find anyone like that. Our product portfolio is also growing, and thus our warehouse spaces are too; today we have over a thousand décors and materials, and that's still not enough. That complicates our storage and handling.
---

---
What did you base your choice of partners on?
With the way our choice of handling developed, our partner was actually determined in advance, since we couldn't find any competing stacker manufacturers for our materials. The market also offered mobile racks, but this solution did not seem technically correct to us.
Where did you get your information and inspiration?
We viewed several forklifts and technologies live in other countries, and we then presented our experiences to a broader circle of colleagues in videos and photographs. Our visit was definitely beneficial; we could talk to people who had been directly in operations and ask them what it was like to work with the technologies. Discussions with the warehousemen were completely different than back home; it was clear everything had seen thorough thought. And so we began to have faith that this route (automation, eds. note) is the right one.
When did you start thinking about your choice of system integrator?
We knew we were basically just buying the hardware, and moreover buying it from two firms. They communicated together on the level of safety, but neither one of them worked on automation logic. We left that issue to the third party supplying the WMS system; we sought someone who could also handle the automation logic. Aimtec won out in that respect, because it could handle both the automation and the Warehouse Management.
We have a lot of work in front of us to make everything work as it should, and we'll still be making further improvements even later on.
How do you look back at this project from today?
We're just in its beginnings now; we have functioning and integrated technologies, but we still need a firm boost to their performance. Right now we're only at about 30% warehouse performance, and from that standpoint we still have 70% to go. One reason is that we have technologies that aren't used in tandem anywhere else and that we are the ones to be integrating and debugging them together for the first time. To achieve that, we need time and people.
We have a lot of work in front of us to make everything work as it should, and we'll still be making further improvements even later on. Today's logic is very simple: "Here's an instruction, do it, wait for the next instruction." We can see we'll have to work more with predictions, with logic on how operations should follow in sequence. I'd compare it to GPS; we're expecting a similar functionality from our automation – for the equipment to decide what's optimal for it, which direction to go in. Today we can see the original automation was too simple. On the other hand, from previous experience in the industry, we know some production lines' run-up took even a year. We thus know that fine-tuning performance takes time, interconnections are complicated, and only now when we can see everything together and working, we're getting the right ideas on what to optimise and how.
Is there anything that, from today's standpoint, you would have done differently?
I'd have spent more time thinking over the solution for the automation processes back in the task definition phase, so that the problems during run-up wouldn't be as large as they are today. Because of these, we're taking a gradual route, where we've launched everything, and now we're going through gradual improvements. We need to press the team harder to think things through in greater detail.
---
DŘEVO TRUST, a.s.
DŘEVO TRUST, a.s., is a Czech wood processing company with over twenty years of experience. It is the supplier with the largest network of stores in the field in the Czech Republic and has a portfolio of 20,000 products. High-volume purchasers – hobby markets and companies – are its main customers, but craftsmen and hobbyists purchase from it as well.
Share article
Top stories from logistics, production and IT.
Subscribe to Aimtec Insights
By registering, you agree to the processing of your personal data by Aimtec as described in the Privacy policy.
Get top stories and articles
from Logistics, Production and IT.
Subscribe to Aimtec Insights
By registering, you agree to the processing of your personal data by Aimtec as described in the Privacy policy.
Related stories