The End of Support for Windows CE and Windows Mobile Is Approaching. Switch to Android.

Microsoft makes no secret of the fact that on 13 April 2021, it will be ending its support for the Windows CE operating systems, and support for Windows Mobile will end even sooner – on 14 January 2020. This is perhaps a logical step. Not counting the first mobile phones, these operating systems have appeared in industrial operating systems for many years now. Time for a change! The makers of terminals and other industrial devices have been preparing for the end of support for a long time now, and they are moving on to Android. Zebra Technologies was the first to take this step.
The end of support for Windows CE – What will really happen in 2021?
You definitely should not expect the apocalypse on April 14th, 2021. The end of support means that Microsoft will stop developing security updates and other updates for Windows CE and Windows Mobile, and nothing more (but nothing less). So if your mobile terminals run on Windows, you need not worry that they will stop working. And I am confident, in fact, that many companies will be using devices with Windows CE even long after the end of support, without even the slightest problems.
But sooner or later, it will be necessary to switch to a new operating system. Because devices with Windows will no longer be available on the market, application developers as well will be working exclusively in Android. But there's definitely nothing to fear – not at all. The little green machine-man brings new possibilities to the manufacturing hall. It's a modern operating system with broad support, thanks to which you'll be able to utilise your industrial mobile devices more efficiently and get more out of them. From the standpoints of digitalisation and Industry 4.0, Android opens up new doors, making it the right choice for everyone who wants to take advantage of these new possibilities.
Your current Windows devices will remain usable
If you are a conservative sort, you have no intention of replacing your devices or your existing Windows solution simply suits you, there's no need to worry. In many cases, you'll be able to use Android devices alongside your Windows devices. Options exist such as the Telnet Emulator and other applications that make it possible to use new terminals in the same way as the old ones. But it's good to keep in mind that, even though the devices we're talking about here are very rugged, they are not immortal. And in any case, if you're planning to grow and to buy new equipment, there's essentially no other choice today besides Android. So you should find out in time what the transition to Android will mean in your environment.
Is Android safe for us in the industry?
The largest fear when switching to Android is a fear for a company's security. How can you prevent a user from downloading external content and dangerous third-party applications onto their device, or surfing the internet during working hours? The solution is fairly simple. Industrial devices in general and overall – both Android and Windows – should be running on a network without internet access. For devices from Zebra Technologies, we also have access to a tool named Enterprise Home Screen. This is an adjusted version of the Launcher. It ensures that nobody will do anything with their device that they shouldn't be doing. In short, they won't be able to. You can configure Enterprise Home Screen so that the only application available is the one that an operator needs for their work. All other applications, web browsers, configurations, wifi changes, etc. are unavailable without the administrator password that unlocks all the functions in Android.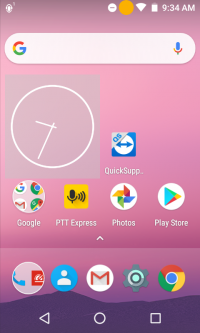 Terminal screen without Enterprise Home Screen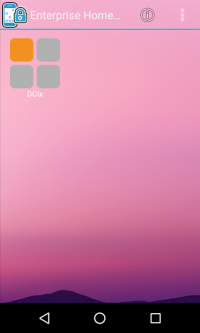 Terminal screen with Enterprise Home Screen - no other than work applications available.
Enterprise Android: Extended support for ten years
It's well-known that the support period for ordinary devices with Android is a mere three years – at least, that's the period guaranteed by Google. But if you are buying a device with an older version of Android, you can even expect significantly briefer support than that. With Enterprise Android, you don't have to worry about such short support periods. As a matter of principle, industrial devices are expected to have lifetimes several times longer than those for ordinary consumer electronics, and because of this, Enterprise Android support extends out to ten years from a device's entry onto the market. Additionally, updates and patches are published on the manufacturer's portal, and the customer has direct control over their installation.

A comparison between the support for standard Android devices and Enterprise Android from Zebra Technologies.
Mobile Device Management – remote administration
Remote administration for your devices? Just one more thing that's natural for Enterprise Android. Every new Zebra device supports features such as SOTI and VMware, making it easy for you to remotely install updates, check your devices' status, etc. However, this tool only truly pays off with a high terminal count. With a lower count, you'll definitely welcome StageNow. This is a tool from Zebra Technologies that is installed on every one of their terminals. You can easily create a profile in a wizard on their desktop client. At the end of that process, a 1D or 2D code will be generated and provided to you. Just scan a device, and the configuration, wifi settings, terminal sleep settings, scanner settings and other features will be stored automatically. With even just ten devices, StageNow will save you a lot of time, and installations on even dozens of devices will only take a few minutes. Configurations can be performed anywhere and can use your internal wireless network, with the needed data being available on one of your servers. Or you can also do things more simply, using just a hotspot and a laptop.
A switch to Android: A step ahead
We currently see a switch to Android as an unambiguous step ahead. Its status as a universally supported platform means that much more powerful hardware appears on the market for it; this offers you new possibilities. And from the developer standpoint, the availability of APIs means that they will be more able to make full use of existing hardware and thus bring their customers more interesting features. After all, Android development has been a very vibrant area for quite some time now. Android also brings some measure of certainty and stability into fields of industry where they have by now disappeared in the case of Windows. So don't be afraid to switch to Android.
Share article
Top stories from logistics, production and IT.
Subscribe to Aimtec Insights
By registering, you agree to the processing of your personal data by Aimtec as described in the Privacy policy.
Get top stories and articles
from Logistics, Production and IT.
Subscribe to Aimtec Insights
By registering, you agree to the processing of your personal data by Aimtec as described in the Privacy policy.
Related stories