DCIx 7: The Future Is in the Cloud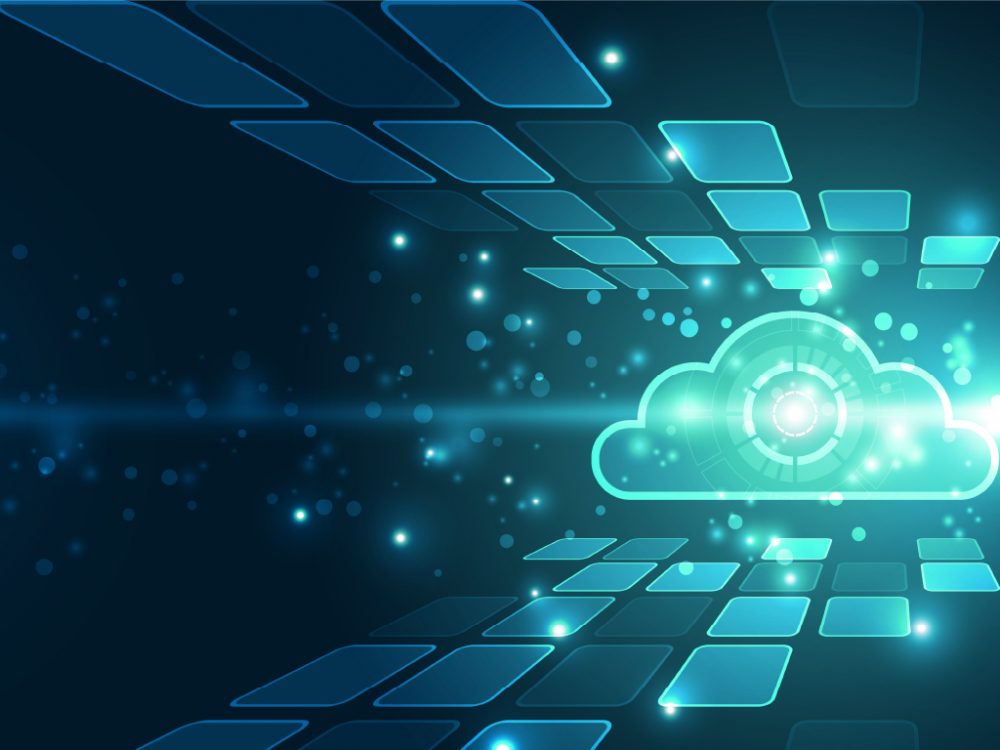 The 2020 DCIx User Group brought much news, but the biggest was the introduction of this application's latest version: DCIx 7. Are you expecting the usual – just some added features like in previous versions? Then you'll be pleasantly surprised. The cloud has entered the game more than ever before. And that makes this more a revolution than an upgrade. What else can the new DCIx 7 offer you?
Harnessing the Potential of Connections
The mission of DCIx is to enable interconnection and automated control of every technology and simplify communication throughout the supplier/customer chain. For DCIx 7, "interconnection" here means not only connecting people and technologies, but also being able to fully utilise the data collected. Utilising data effectively is mainly about tying it to given performance indicators and then visualising it. For example when worker performance was on display at one project's workshop, performance rose by 20% with no need to alter wages.
"DCIx continues in the strategy of offering solutions that logistics and manufacturing can't do without. The newly added Yard Management System module is a great example," notes Cloud Business Development Manager Marek Šabatka on the importance of the broadness of DCIx 7. Unlike previous versions, DCIx 7 focuses mainly on the cloud. Yet its main mission is still to help users do more and more on their own. "We see the future in putting transactions and processes in the hands of our customers. It's not that we don't want to do the work, but that we want to open up the option of intervening in the system without us," noted Supply Chain Solutions Director Rostislav Schwob at the end of his presentation.
An Upgrade? A Revolution.
While DCIx 6 can be thought of as one bundle of solutions, DCIx 7 has – by meeting the requirements for being "cloud native" – seen a transformation of its architecture. Unlike DCIx 7, it comprises several parts representing individual services that can run independently of each other. That brings guaranteed availability for the application overall even if one of the components happens to break down.
Architecturally, running DCIx 6 requires hardware upon which you use virtualisation to create a Windows-based server and run an SQL database on top of that. Meanwhile, although DCIx 7 requires hardware with a Windows server and an SQL database just like DCIx 6 does, at least three servers running on Linux are needed in addition. A tool named Kubernetes connects and controls these three servers. This tool is simultaneously able to administer every component in DCIx 7, and through that, to keep the whole application running stably.


We'll All Be in the Cloud Someday
Like it or not, global trends clearly show that the future of IT is in the cloud. "The cloud offers us the option of not dealing with things we don't want to worry about. We simply leave them to someone else," noted Rostislav Schwob when closing out his part of the presentation.
Meanwhile in his presentation, Cloud Business Development Manager Marek Šabatka described, among other things, how the IT company Gartner approaches the cloud: "Today, every company that works with IT in some way should have its IT strategy built upon a cloud-first approach. At the same time it should keep in mind that cloud first doesn't mean cloud always." The development of DCIx 7 used the same approach, which it can thank for its compatibility with both cloud usage and on-premise usage with no restrictions on functionality. And so you can subordinate your choice of solution type to your IT strategy. All the same, the cloud itself brings users major benefits.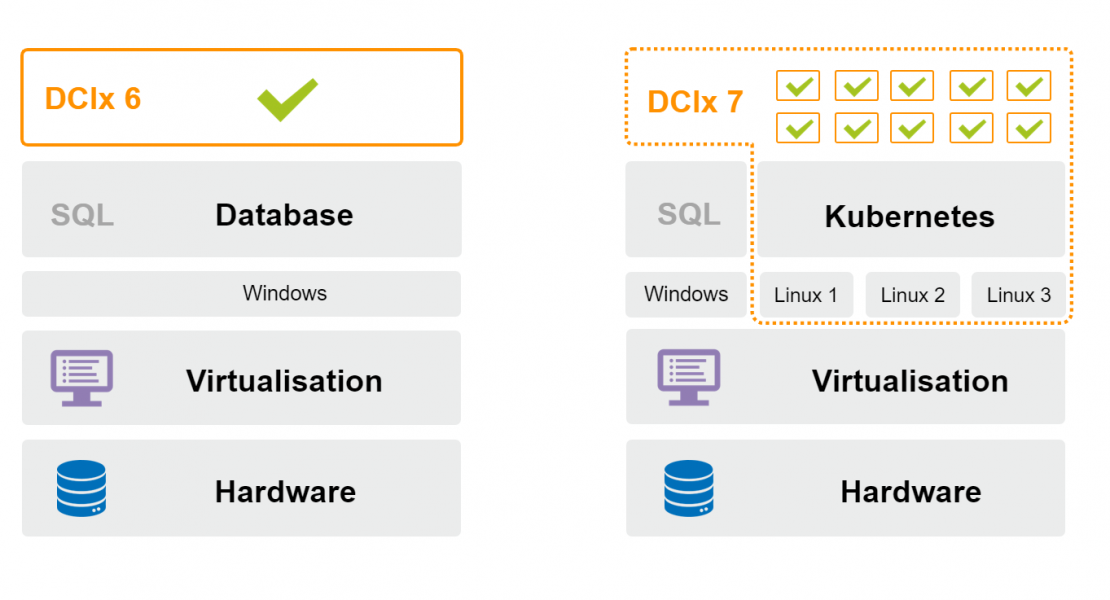 On-premise DCIx 6 vs. DCIx 7 in the cloud
A Cloud under Your Control
What does the cloud change for users? At first sight, everything looks the same. "Even though this is a cloud solution, we retain the same functionality for you as in an on-premise solution. At the same time, we empower you to configure processes just as you need. Moreover, the cloud brings you new technologies, like an API interface and more," noted Marek Šabatka when describing the "single-tenant" cloud structure.
Unlike a cloud service such as Gmail where hundreds of thousands of users have access, with DCIx 7, you can think of the cloud as a space accessible to you alone. A high degree of security – from endpoint-device VPN and remote access to the Aimtec Cloud Portal and two-factor login to authorisation (access based on user roles) – is related to this as well. Meanwhile users themselves don't even need to know the system is on the cloud.
On-premise vs. cloud
The key factor for the cloud is availability, which passes responsibility on towards Aimtec. So the infrastructure management that would be handled by your IT department in an on-premise solution passes entirely to Aimtec. And that includes the responsibility for the whole application's functionality. If there's any downtime, Aimtec is contractually sanctioned.
Availability also intermingles with other features offered by both solution methods. Here again the difference lies in the responsibility. For example with automated monitoring in on-premise, data is displayed on one of your devices, and if trouble arrives, you have to contact your support desk. Only after that can the support team work on your problem. In the cloud, this responsibility passes to Aimtec. Support might even be able to solve the problem before you notice it. The same applies for things like updates and system maintenance.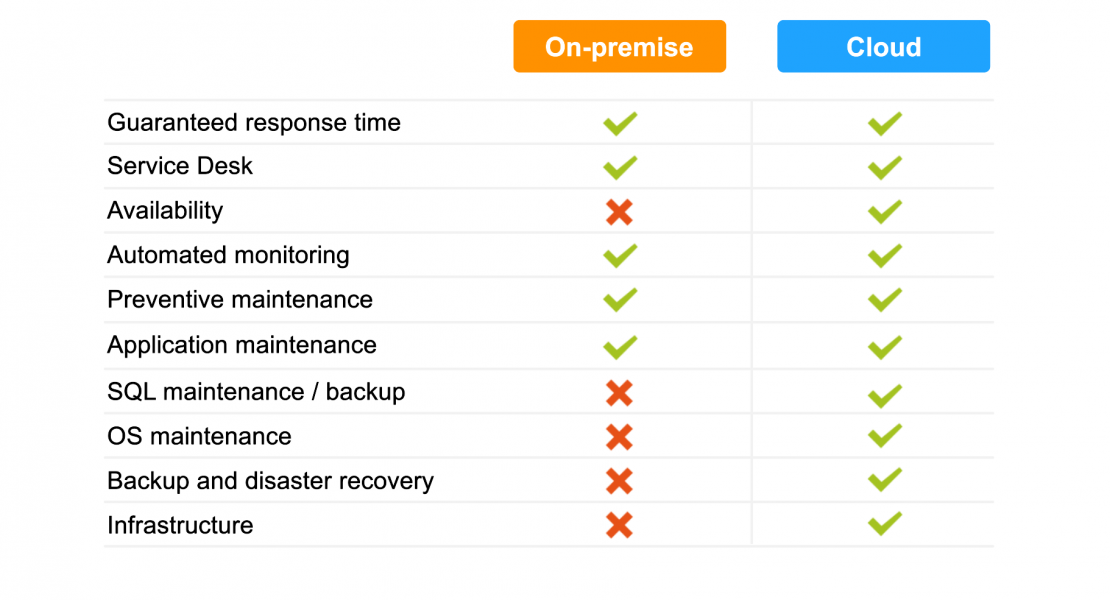 A comparison of DCIx on-premise and in the cloud
The Main Principles of DCIx 7
DCIx 7 is able to run both in the cloud and on-premise. So the key for DCIx 7 isn't the cloud – it's the system's broadness. Thanks to its "cloud first" approach, an entirely new application architecture was created during its development. Naturally, the new version has seen new features and services too (you'll find them in the article The Most Important DCIx 7 Features). But the main benefit of DCIx 7 lies in the fact that as a user, you're relieved of responsibility, but you keep all the functionality.
Learn more about solutions for integrating the supply chain at your company too.
Share article
Top stories from logistics, production and IT.
Subscribe to Aimtec Insights
By registering, you agree to the processing of your personal data by Aimtec as described in the Privacy policy.
Get top stories and articles
from Logistics, Production and IT.
Subscribe to Aimtec Insights
By registering, you agree to the processing of your personal data by Aimtec as described in the Privacy policy.
Related stories