The King Is Dead, Long Live the King ‑ Zebra MC9300
The MC9000 mobile terminals have long been among the best-selling products in their category. Since their entry onto the market in 2003, 2.8 million terminals from this line have been sold. And it's no wonder, because this is one of the most robust solutions among mobile terminals – one that holds up long-term during demanding operations in manufacturing halls and warehouses.
The last available generation of the MC9000 line, named the MC92, has its best years behind it. So we've been waiting impatiently for a successor, and now the wait is over. Zebra has just brought the new MC93 model, with many new features, onto the market.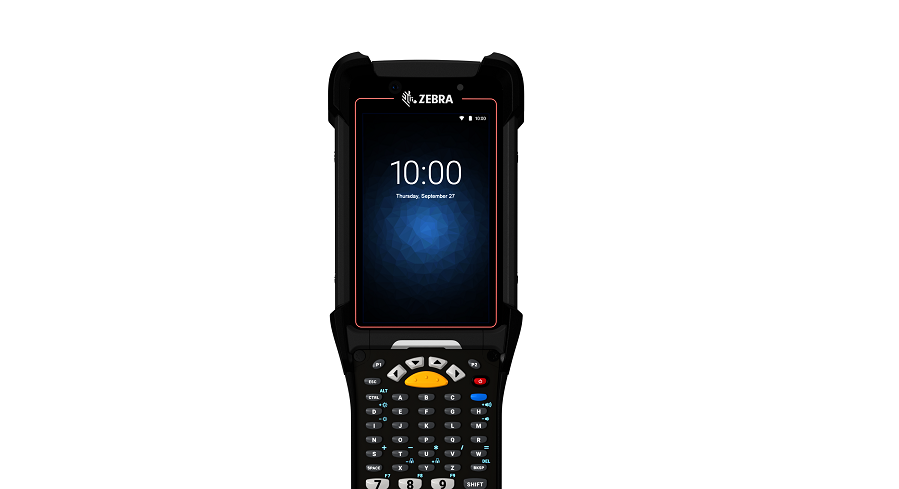 Zebra MC9300
Let's start with what's evident at first sight (or first touch). The ergonomics and craftsmanship of the "93" will catch your interest as soon as it's in your hands. You'll feel like you're holding a gun to shoot down all the bad guys in picking, plus the terminal has a perfect balance.
Its 4.3" capacitive display is surely eye-catching; it provides more room for viewing information. Its LCD is also protected with a full two layers of Gorilla Glass. I also consider the positioning of the scanning module to be an advantage. It's more deeply recessed into the device's body, which will definitely protect it better against damage.
When you look at the battery, an unpleasant surprise is waiting at first. All of the previous generations used the same battery model, and thus the same charging accessories too. The new generation has brought with it an entirely new battery, and that can be a problem in terms of compatibility with older chargers. But you just need a special adapter to be able to use today's chargers with the MC93 as well. And the new battery does have a number of benefits. The battery now has a capacity of 7,000 mAh, and this in itself ensures nearly twice the staying power per charge. Also, with the new charging stations with the quick-charging feature, you can reach 90% capacity in just 3.5 hours.
Computing power is provided by an eight-core Snapdragon 660 2.2GHz processor and 4 GB of RAM. This platform is in all of the terminals that Zebra has released recently, as well as those just being released. So for the first time, we're seeing a unification of their portfolio. This brings positives in the form of better support, updates, and the use of software across all Zebra products.
Talking of software, Zebra Mobility DNA software is likely the device's largest competitive advantage. The future belongs to Android, and so with the MC93, what we see is strictly and solely the Enterprise Android 8.1 OS with pre-installed utilities such as Device Tracker for determining equipment locations, Push to Talk, ALL Touch TE or Velocity Telnet Emulator, StageNow for easy and fast configuration of multiple devices at once, and Enterprise Home Screen Pro. The Power Precision Console is an interesting new feature with which you can remotely monitor the state of each individual battery without worrying about which device it's currently inside of.
Thanks to the LifeGuard programme, we can all count on the MC93 having support and security updates that last for ten years. In light of what we've seen with the preceding generations – which in many cases ran without problems even for longer than ten years – and considering that the MC93 is right at the beginning of its life cycle, it's definitely an attractive investment within your future projects.
On the one hand, we've all had to wait for some time for the MC93. But after our first impressions, we have to state that the waiting has paid off.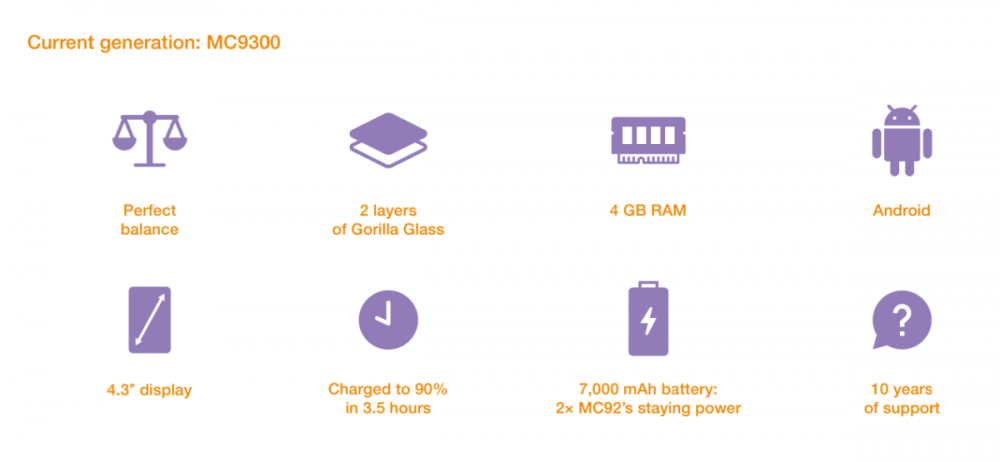 Specification MC9300
Share article
Top stories from logistics, production and IT.
Subscribe to Aimtec Insights
By registering, you agree to the processing of your personal data by Aimtec as described in the Privacy policy.
Get top stories and articles
from Logistics, Production and IT.
Subscribe to Aimtec Insights
By registering, you agree to the processing of your personal data by Aimtec as described in the Privacy policy.
Related stories