Automation: Keeping Your Control System in Great Shape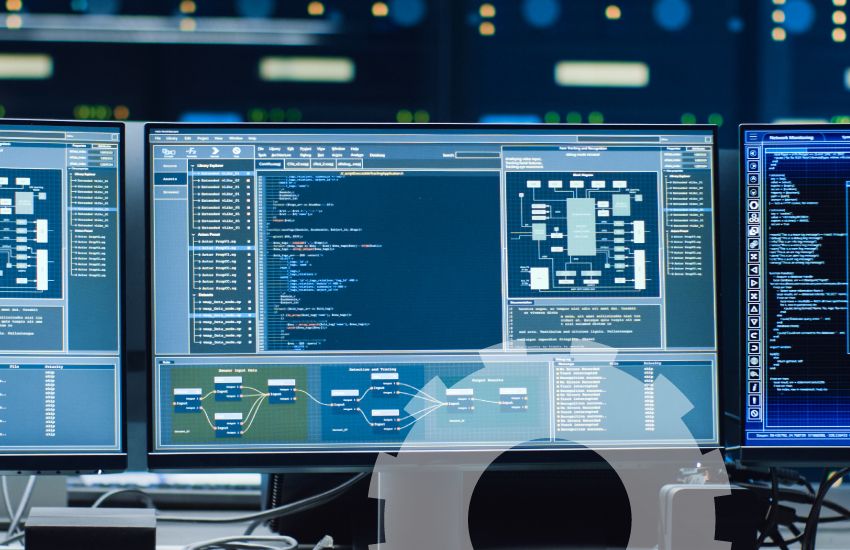 In our previous article on how to tackle automation, we mainly focused on your team and on how to take an efficient and modern approach to your new control system's deployment. Today we'll look under the hood (or into the code?) of the system itself. You want it to grow along with you – and with the evolution of your processes and the hardware technologies in use at your warehouse. So you need it to be configurable, and naturally you need to attend to its maintenance too. But you can entrust that maintenance to… automation! Join us for a look at how to "automate automation" and have a control system that's still as good as new after years of utilisation.
Configurable systems: Processes as puzzle pieces
Just as you can adapt a warehouse, add in some new technologies while removing others, and then adapt all of them to reflect your firm's needs, you should also have the option of snapping individual modules into and out of its control system. Whether on-premise or in the cloud, for your intralogistics, you're seeking software that doesn't mind if you only add in certain processes from certain areas. A MES, which very often contains quality control or maintenance elements, is one typical example. For a WMS, it's all about configuring various processes that will differ, for example, between manufacturing and logistics companies. At Aimtec, with certain customers, we have reached a stage where the internal team now adapts the control system with no need for intervention from us.
Application settings documentation
Naturally, the documentation for a system or application passes into live operation at the moment of launch. But at the same time, there will be a need to record any changes to an application's configuration even after its deployment, that is, whenever you've adjusted a process or created a new workflow. This too can happen automatically, with the changes being documented and saved on the fly, so that the system's documentation remains current no matter how you reshape the system or its process settings. This makes things easier for your internal team when they're training new members, and for your solution supplier if they're asked to adjust the system.
Automating the control system's maintenance
Just like during project deployment, there is a need to automate a number of activities – which would otherwise demand human intervention – over the course of the control system's actual use as well. For companies that assemble parts in sequence with hundreds of variants, every month their database might be fed millions of transaction records, which ultimately means terabytes of data. A typical expected system response time is on the order of 200 ms, and for critical operations where you need to halt a machine immediately, responses have to be even faster than that. So how can you ensure the system will never get bogged down?
At Aimtec we're busily developing and refining several features that address the issue of the control system's smooth operation. They mainly relate to monitoring and optimisation. Automating these activities eliminates many repeated actions by the internal IT team, which lets them devote their energies to further development rather than mere maintenance.
Automatic self-monitoring – enabling the system to say when it's in trouble
To help our customers avoid any system outages or overloads, we have developed a feature for DCIx that automatically monitors its performance and load level. It passes the stored monitoring data on to the cloud for further use; we perform visualisations of this data automatically, and customers can view reporting on our web portal instantly. We escalate any critical events, via notifications sent to the appropriate staff. Meanwhile, when critical values for performance or load level are exceeded, the monitoring system immediately also sends a notification to our supplier support, where we initiate a solution.
Our automatic monitoring primarily watches over the following:
amount of data stored, RAM and CPU load levels, status of services,

significant increases in transaction response time, machines' response times, DB locks.
---

---
On-line data archival – securing your data against loss
Regular automatic data archival at defined intervals is an option, thanks to the self-optimising algorithm that adapts the archival process to the amount of data being archived. So archival is run when the system is burdened the least. Archival is run with no need for administrator action and does not affect the software's operation or demand any downtime.
The on-line system maintenance plan – maintenance that runs when your system is burdened the least
It's not just your machines that need regular maintenance. Your system needs it too. Automatic maintenance regularly checks the database and runs defragmentation and recalculates statistics as needed. The algorithm adapts this activity to the current load level and, if needed, delays archival until that level hits bottom. Here once again no administrator action is needed, nor is the system's operation at all influenced. Thanks to this regular maintenance it retains its speed, and automation unties the hands of the client's internal IT team yet again.
As you can see, control systems are a key part of automation overall, even though they're not visible the way physical technologies are. They are precisely what keeps everything running smoothly and maintains an automated warehouse under control. So keep a watchful eye when choosing yours, and during its operation as well. But as we've seen, to some extent, that watchful eye can be an automated eye.
Share article
Top stories from logistics, production and IT.
Subscribe to Aimtec Insights
By registering, you agree to the processing of your personal data by Aimtec as described in the Privacy policy.
Get top stories and articles
from Logistics, Production and IT.
Subscribe to Aimtec Insights
By registering, you agree to the processing of your personal data by Aimtec as described in the Privacy policy.
Related stories